"Island of Sodor" Birthday Party Project
For my son Cameron's fourth birthday he was very clear that he wanted an 'Island of Sodor Party'. I asked if he wanted a Thomas themed party and he promptly relied "no - an Island of Sodor Party!" After many questions we came up with two requirements for this 'Island of Sodor Party':
He wanted the Troublesome Trucks to bring the food.
He wanted the characters from Sodor to visit our house, and to have a ride on Thomas.
Now I LOVE making things so this was an exciting challenge for me.
I thought about the first request and came up with a food train: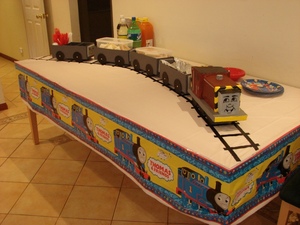 Each carriage is made out of part of an old nappy box which I cut and stuck into the correct shape. Cameron and I put one layer of paper mache over the top to make it easier to paint. We then painted the carriages grey like the Troublesome Trucks. Creating the engine was a bit more difficult. Again the shape is made out of spare cardboard but I had to use the wooden Salty that we have to get the right shape and markings. This shape then needed a couple of layers of paper mache (which Cameron also helped with). The painting I did myself because it is just too fiddly for a 4 year old. To make the wheels, we just cut bundles of circles out of cardboard and painted them black and attached them with split pins. The track is electrical tape stuck on a table cloth. With time this is not actually that difficult to make, as it is mostly boxes. The reason I chose Salty to pull the train was that he was almost totally able to be created with boxes.
The kids and parents loved this idea so much that if I had any idea how, I'd manufacture and sell them :-). Since that is unlikely click here for more detailed instructions for creating the food train yourself (note: I created these from memory so have not tested them out).
The second request was by far the more complicated one (and not one we would recommend others try!)
We created the "Island of Sodor" by making a some Thomas characters, and common places the engines visit.
We made:
A Coal Hopper

We used packing boxes for the shape and a stand from the jolley jumper to hold it up.

An Engine Wash

We used packing boxes for the shape, cut up plastic table cloths for the curtains, and a bubble machine to make bubbles while Thomas was having the coal dust "washed" off.

A Tunnel

The shape was made out of packing boxes and we used some PVC pipe to help it keep its shape.

Harold

We made this shape and propeller out of packing boxes and used some string to make his propeller spin.

Cranky

Cranky's shape was made out of packing boxes and LOTS of packing tape to hold him together. For the "winch" we used aluminium tubing, rope and a sidchrome spanner for the winch handle.

Thomas

His shape was made out of packing boxes and the board that he sat on was made from MDF. Originally Thomas was going to be just a push along thing but my husband is good with electronics and he made Thomas remote controlled by reusing a project he had done a couple of years ago.

Troublesome Truck

This was made of MDF so that the other children could have a ride while our son "drove" Thomas around. This was perhaps the most expensive character we created (even though it looks very simple!)

Mr Jolley's Chocolate Factory

We simply made a sign and got a friend to play Mr Jolley and hand out lollies.

Tidmouth Sheds

Again we made a sign and used our garage as Tidmouth sheds.
Where required we applied some paper mache, mostly to make things a bit stronger and to make painting easier. For painting we mainly used basic acrylic paints in appropriate colours. The notable exception to this was the blue colour for Thomas. I tried very hard to mix this colour but couldn't get close, so we took wooden Thomas to Bunnings and they did a colour match for us. Then we got a sample pot of Dulux "Water Raceway" acrylic house paint, which was only about $8 for the pot.
Using the above characters and places we created a story where the children got to help Thomas find items that were "missing" after the "terrible storm" that blew through the island the night before. And later they got to keep the items - so it was a lot like a treasure hunt.
We took photos and made it into a story book.
We sent each child a copy of the story book to keep - they just loved this.
Heaps of people have told us that we should hire out the "Island of Sodor". We haven't done that but a friend of ours, Glen Turner, borrowed Thomas for a party. He makes an excellent Fat Controller don't you think?

Maybe we should hire out the "Island of Sodor" AND Glen :-)