A Wiggly Birthday Party
At Emily's second birthday she was really into The Wiggles, and wanted a Wiggly Birthday Party. For Cameron's Fourth Birthday we had built him the Island of Sodor, and Geoffrey made an off hand comment "what are we going to build for Emily's birthday - the Big Red Car?". I didn't think that was such a bad idea!
So I set to work building Emily a Big Red Car. The body is built using cardboard, and a bit of wood with some paper mache over the top followed by a couple of coats of paint. The seats are made from wood and screwed to what was the running board for Thomas the Tank Engine at Cameron's party. Here is the finished vehicle...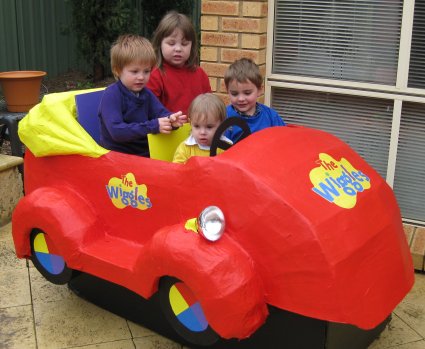 We created a Wiggly Treasure Hunt with a story which I will add later.

Geoffrey took the kids for a little drive around the neighbourhood. Here are a couple of photos from their trip...