Bennett US/New Zealand Trip 2006 - Live and Learn Conference
31 August 2006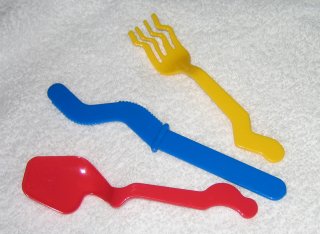 Well we are finally off on our long awaited holiday to the US. Today Grandma and Grandpa were kind enough to take us to the airport. We got there in plenty of time to check in. We were checked in by a very friendly person at Qantas called Brett. He was really helpful and very respectful of Cameron when he got upset about his pram going on the plane with his bag -- I was very impressed.
On the plane Cameron was very entertained by his meal for quite a while. The meal came with Wiggly cutlery which Cameron was very fascinated by. After lunch he watched some movies on Geoffrey's laptop. Emily slept on my chest with the sling around her for almost the entire flight. It was a very uneventful trip.
When we arrived we had a ride in a van to the hotel. We stayed at the Airport Oakwood Manor -- an okay hotel for a nights stopover.

1 September 2006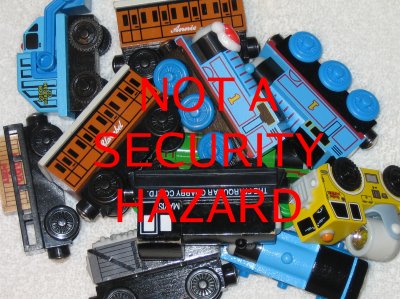 Today is the "big" day -- 11.5 hours of plane travel and 2 hours to kill in the airport before take off. We arrive at the airport with what seems to be plenty of time -- then we see the check in line for international flights. The line is VERY long and slow moving. It looks like it will take at least an hour to get to the front of the queue... Geoffrey and Cameron go off to play while I wait in the line with Emily and all the bags.
Just after Geoffrey and Cameron go off to play an official looking lady pulls me out of the line -- "step out of the line please ma'am" quite serious sounding. Then I get taken up to the front of the line for a speedy check in -- Traveling with an infant does pay off! I have noticed that New Zealand is good at catering to families with small children. They had a line to get through immigration and customs specifically for families with small children.
Once checked in we headed off to immigration and security. At security Geoffrey got the question "do you have nails in your bag?" to which he of course replied "No". So the security person took everything out of the bags (none of which looked very dangerous) and re-x-rayed the bag. The "nails" had gone. "Curious" she says and then tells Geoffrey that he can pack his bags and go on through. "Curious" we thought as nails don't just disappear and there were any number of items that she didn't closely examine which we could have hidden nails inside. Anyway just before we leave she notices Cameron's Thomas the Tank Engine bag and asked if we minded her x-raying it again because she was curious as to where these nails were (she appeared convinced that we weren't a security hazard). Turns out that the pins that hold the wheels together on the wooden Thomas trains make it look like a bunch of nails on an x-ray -- drama averted we are sent on our way again.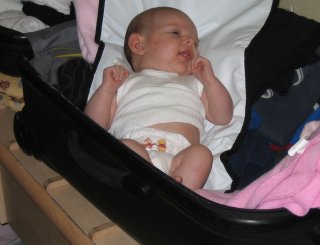 Due to the current world situation we run into yet another long slow moving line which is an extra security check involving more wands, x-rays, and gender-specific security staff. They didn't appear to check for any liquids, but maybe water shows up on x-rays. Again me, Emily and Cameron get expedited service (unfortunately Geoffrey got left in the "Male" line so we had to wait for him anyway).
After a 23 minute delay we got to board the plane. Unfortunately we were separated by an aisle, but thankfully a nice lady and man switched seats with us so that we could all sit together. Now we were all prepared for the flight -- we were seated together, we had food, movies and presents to keep Cameron happy.
Let me just say: "Movies on demand" is wonderful! Cameron enjoyed his very own TV and watched Sponge Bob Square Pants over and over for the first four hours. Emily had milk and slept on me for the first four hours of the flight. I watched "The Inside Man" movie (it was OK) and Geoffrey watched a movie called "Kenny" (which he also said was alright -- got better towards the end). We then had some food, all of which was pretty nice for airline food. After which there was more TV on the agenda and some sleep for Cameron and Emily. Emily spent most of the sleep time sleeping on the tray table (on a pillow) in front of Geoffrey. She was only really unsettled for a period of about 30 minutes -- which was very convenient. Me and Geoffrey didn't get any sleep during the flight.
After 11.5 hours of very uneventful flying we arrived in LA -- whew, that wasn't so bad I say to myself. Now all we needed to do was get through customs and immigration with two tired children and two very tired adults. How hard could it be?
The visitor line at immigration was much longer than the check-in line in Auckland -- this was going to be a challenge (especially since we couldn't locate a toilet!). When all the US citizens had passed through immigration, an official took pity on the families with small children and sent us through the US citizens' line, so again almost no waiting. Me and Geoffrey got our fingerprints and photo taken (Cameron and Emily don't have to have it done until they are 14). After collecting our bags we had a nice lady from customs help us wheel our bags out to customs and then out to the arrival area.
We took the "Mickey Mouse bus" (as Cameron called it) to our hotel. Once there we all had a sleep until 10:30pm when Cameron and Emily woke to play.
2 September 2006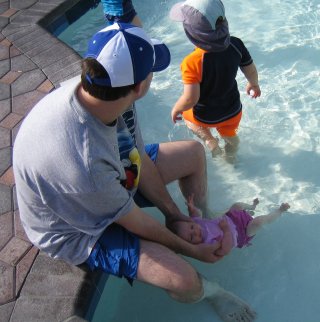 Today was designated as our "rest and recover" day. After all going back to bed around 4am we slept until 12:30pm. We went to a cafe called Mimi's Cafe for lunch. The food was really nice and the service friendly.
After lunch Cameron wanted to go swimming so we went to the gift shop to buy Geoffrey some bathers (because he didn't have any). Cameron seemed to have a really good time in the pool with Geoffrey for about 3 hours. Emily went in the pool for about 20 minutes then she came back to the hotel room with me so she could sleep.
For tea we went to Captain Kidd's -- the food we had was well below average but right after our meal Cameron and I were lucky enough to catch the Disneyland fireworks display which was a bonus. After that we went for a walk and Cameron spotted a man selling light sabers on the street so we had to get one -- he was very excited and whacked me and Geoffrey with it all up and down South Harbor Blvd.

3 September 2006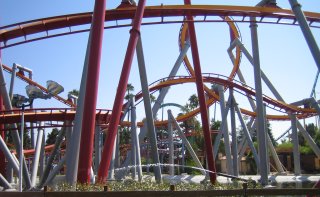 Today we went to the Knott's Berry Farm theme park. At the entrance gates the lady said to Geoffrey "Have your bag open to show security" just before she noticed that the "bag" was Emily in the sling.
It was really great to watch Cameron taking it all in once we got through the gates. He ran around heaps looking at all the rides while we chased him around for a few hours. His biggest fascination was with the roller coaster rides. He even asked to ride the roller coaster but he isn't tall enough yet.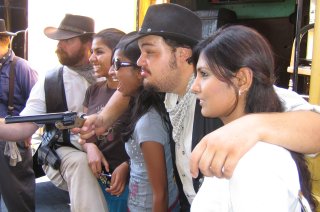 Me and Geoffrey attempted to direct him to Camp Snoopy where he would be able to ride anything he wanted but we found a train before we got there and of course we had to ride that first. While on this ride some very noisy train robbers burst into the carriage. This momentarily frightened Cameron but they were soon on their way to hold up the next carriage of people.
Then we were off to Camp Snoopy where we had a boat ride. This was the first time that Emily woke up since we left to hotel, just over 3 hours -- which was very surprising given that it was absolutely stinking hot. Emily had a feed while we rode on the boat and then went back to sleep in the pram this time.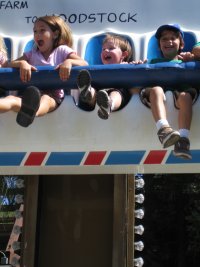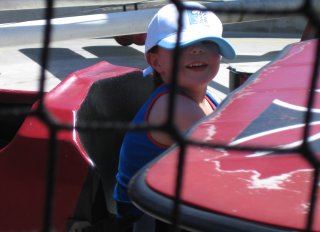 After the boat ride Cameron found what was to turn out to be his favorite ride of the day -- the Woodstock Mail ride. He had plenty of rides on this one through out the day. When Cameron and Geoffrey were on this ride for the first time Emily was laying in her pram smiling and cooing, it was very cute -- I think that she could hear Cameron and Geoffrey making excited noises. Cameron also enjoyed some rides on the Red Baron airplane ride and on the swinging school bus.
At about 4pm we decided to go outside the park to a nearby restaurant to have some food and cool off. That evening Cameron really enjoyed helping me do the washing and playing in the games room while Geoffrey and Emily slept. Everyone slept really well that night -- I think that the time zone adjustment is nearly complete!

4 September 2006
Today we are going to Albuquerque by train. After many recommendations we decide that the best way to get to our train is to take a taxi to the Anaheim train station then go by train into Union Station in Los Angeles city. We have been told that getting taxi drivers to tell you the price before you get in the cab is a good idea so they don't take you on the scenic route so when the taxi is booked we make sure to get a price.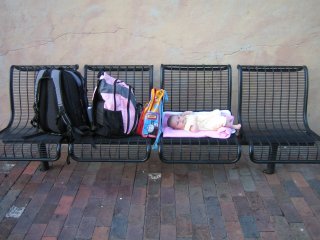 When we get to the Anaheim train station Geoffrey tried to organise some tickets for us while Cameron and I investigate the resident vending machines. There is a problem with getting a ticket to Union station -- no trains going to LA have passed through the station since 10 am in the morning and there was no estimate on when the next train would arrive. Later I heard two theories on what the problem was -- a broken down train or a stuck signal. The lady at the Amtrak window is exceptionally helpful though -- she recommends going to Fullerton train station because our train coming out of LA will pass through there anyway and it is only a $20 (plus tip) taxi ride away -- the train would have cost us $35 so we eventually saved $13. After a bit of negotiation we get the taxi driver to take us to the Fullerton train station for $20.
We had about 6 hours to kill before our train left so we got our tickets and checked our bags before heading off to a nearby restaurant where we managed to spend about 4 hours without getting too many glares -- apparently having a small baby sleeping on your table buys you quite a bit of goodwill :-).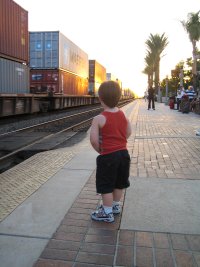 We then went off to the train station to watch trains go by until we boarded our train. Right after we got on the train we went to the dining car to have some food which was really nice. Cameron loved having the food while travelling in the train, and Emily slept the whole meal. Towards the end of the meal a person (who turned out to be James Coburn) walked up and asked "Are you the Australians going to the conference?" I was quite stunned that he could have worked that out -- we must really look out of place here :-). We also met Robyn Coburn before heading back to our room.
The room was really nice and spacious. Our cart attendant, Peggy, put the beds down for us shortly after we returned from dinner. There were two adult sleepers (one single and one double) and two children's sleepers. Cameron was very excited to try out the top bunk initially but eventually ended up on the lower bunk. It was surprisingly easy to get both Cameron and Emily to sleep and they both slept really well.

5 September 2006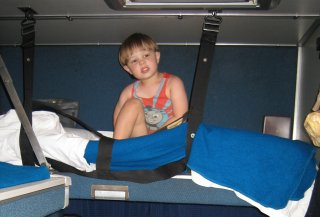 This morning Cameron woke up very excited. He talked all about sleeping on the train and pointed out lots of things that he could see out of the window of the train. He basically talked non-stop from the time he woke up until just after breakfast -- about 2.5 hours. He is very cute. We got to have breakfast and lunch on the train before getting off at Albuquerque train station. We gave our cart attendant a tip on the way out as I found her really helpful, and I liked the way she remembered Cameron's name and addressed him by it when she asked him questions. She also listened to him when he talked which was really nice.
Getting to the hotel from the train station was a bit of a hassle as there were no taxis hanging around the station, and the taxi that we called would not take us as they are required to have a child seat for Cameron and an infant seat for Emily. We eventually found a taxi driver who would break the rules for us and arrived at our hotel.
Check-in was very quick and we went up to our room. I needed to have a lay-down because I felt very wobbly -- I was used to the train motion and now that it had gone things felt very weird. Cameron stayed with me and watched movies while Geoffrey took Emily for a walk.
That night we had take-away from Lotaburger across the road from the hotel and ate in the hotel room because we were all a bit tired.
Cameron and Geoffrey went to sleep very early, but Emily wanted to stay up pretty late, so we stayed up together looking at photos and typing up what had happened on our trip so far.
6 September 2006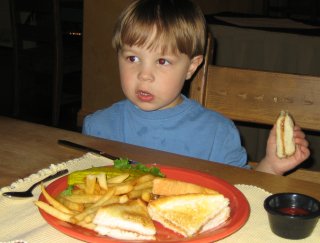 Today I spent a fair bit of time in the hotel room. Geoffrey and Cameron went out in the morning to do some shopping (for breakfast cereal, nappies, wipes, milk, juice, etc) while Emily and I tried to get some sleep. When Geoffrey and Cameron got back we went to the hotel restaurant for lunch. Cameron tried his first peanut butter and jelly sandwich -- it got a big thumbs down.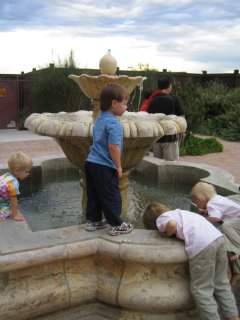 We then went in search of a laundromat to do our washing. It was just over 2.5 miles there and back and we had a mini drama with the washing machine when I put the washing powder in the softener section. We were very lucky that a washing machine repair man happened to be there and he flushed out the soap powder for us. Unfortunately this all meant that we missed the start of the ice cream social and the ice cream but we did get to meet a few new people.
Cameron seemed to have a great time "yelling his way in" (as someone put it) to some groups of younger children. He also had a great time playing with the fountain in the courtyard.
After the ice cream social we had a look around the conference venue and Cameron found a man "building a wall" -- he was putting up the dividing wall between two conference rooms. Cameron took great pleasure in helping him with this task until another member of hotel staff told me that he couldn't do that in case he got hurt (a liability thing apparently). Cameron had to put shoes on in the train when outside of our sleeper room for the same reason -- Americans seem to be so concerned about being sued. Geoffrey also commented to me on the number of lawyers' offices that he had seen on his walk in the morning. I guess someone must be keeping them all in business!
While Cameron tried to go to sleep, Geoffrey took Emily down to the ground floor to buy some postcards and chat with some people. He met Ren Allen, Erika David-Pitre, Jenny Altenbach, and others who ogled Emily. While down there, Geoffrey felt something land on his shoulder. He looked around and thought it looked like a very large spider so he turned around and asked Ren to please remove it from him. Luckily Geoffrey had the bag containing the postcards to lend out so Ren could swat it off him. It turned out to be a centipede, which apparently will give you a nasty bite if given the chance.

7 September 2006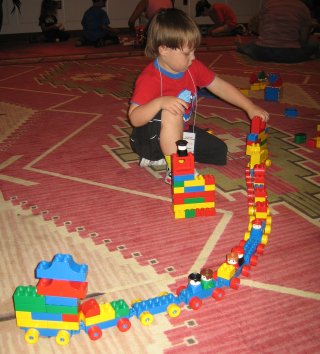 This morning I slept in after Emily had another fairly wakeful night. Cameron and Geoffrey went to the "Too Many Building Toys" funshop where Cameron enjoyed playing with the trains.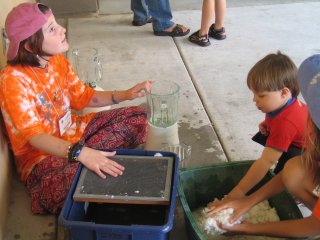 After lunch Cameron enjoyed helping Maddie make cotton pulp for the paper making funshop that will be tomorrow. Then Geoffrey went off to the "Something Secret with James" funshop where he got a photo of an electric spark from a Van de Graff generator while Cameron, me and Emily went to find the RC cars. We eventually found them in the car park just near the hotel. Cameron had a great time watching the cars and a little boy called Ian let Cameron play with his remote controlled car. Cameron loved this, but unfortunately he broke the aerial on the car which was a real shame. Ian's Mum was very nice about it but we still felt really bad -- we are going to see if we can get something to replace the broken one tomorrow (and get one for Cameron).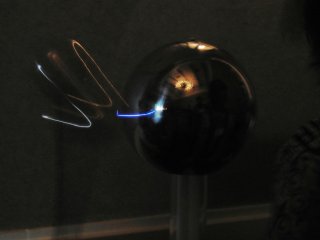 After the RC cars finished we went to find Geoffrey. Cameron stayed with Geoffrey for a while, while I took Emily to wake her up and play a bit. Later Geoffrey went to the SSUDs (Secret Society of Unschooling Dads) meeting and I played with Cameron and an awake Emily for an hour or so. Eventually Cameron wanted to see Geoffrey so we interrupted him for a little while before heading back to our room for a rest.
Late in the afternoon there was a thunder storm which Cameron seemed to enjoy. He was very animated about the cars getting wet. I wonder what it looks like from the ground to see a topless little boy waving his arms and screaming.
In the evening we went out for tea with a family from Boston -- Phil, Christine, Kimmy, and Sean. They were a really lovely family and it was good to hear about how they came from School to Unschooling. Sean also held Emily for a while -- he really likes babies. We went to the melting pot restaurant which was really nice (I want to go back for dessert again). Emily and Cameron were pretty unsettled but the nice thing about going out with people who have young-ish children is they are very understanding and helpful.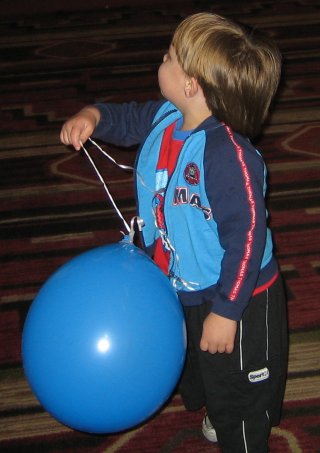 After tea Cameron had a great time playing with Sean and some balloons that they got from the restaurant.
One thing I have to note today: Americans never say "breastfeeding" -- they use the phrase "nursing". Even on the train the car attendant said something like "I will just put the top bunk down so that you can... keep doing what you are doing". It's like they are scared to use the word "breast" -- maybe they think that someone will be offended and sue them :-)

8 September 2006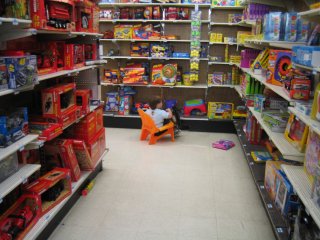 Today we walked down to Kmart, which is about 1.4 miles away, to get two remote controlled cars -- one to replace the one we broke and one for Cameron for the next RC cars funshop. While we were there we also got Cameron some water pistols to use during the Water Works funshop that afternoon.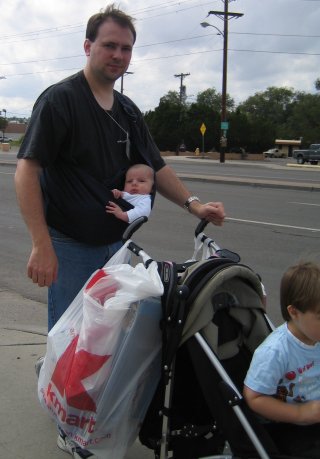 We were planning to catch a taxi back to the hotel but taxis do not take children under 12 without cars seats. We originally thought that a taxi van was exempt from this restriction but I found out that is not the case (at least according to the taxi company I spoke to). We walked part way back and then caught a bus, which Cameron enjoyed. The fare is $1 per adult, and Geoffrey tried to give the bus driver a $5 note, but she said that they don't do change and while he was looking for the correct fare, she gave him two tickets and in a loud whisper told him to just hurry up and go on down the aisle. Seems that carrying an infant around helped again!

While walking back we saw a speed trap operation in progress. Only one police officer was needed to operate the laser, but there seemed to be an excessive number of other officers there and I counted at least five cruisers. This really made Australian speed trap operations look efficient!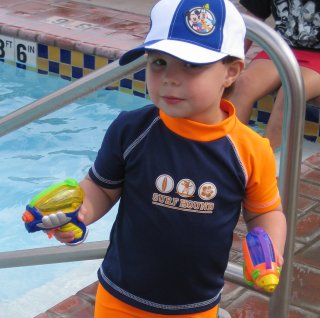 After we got back Cameron and I changed into our bathers and went down to the pool to join in the Water Works funshop. We didn't really find a funshop when we arrived but Cameron had a great time playing with his water pistols with a boy called Andrew.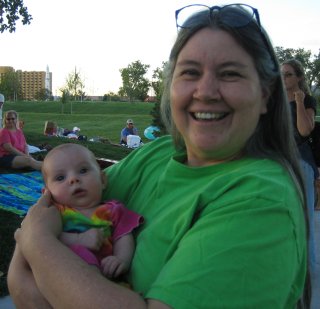 Geoffrey went off with Emily to see if there were any talks going on that he was interested in. Ren's talk on "The Case for Creativity" was already over, but he found Sandra Dodd's table and purchased her book on how to move a puddle. Sandra gave Geoffrey a very cute tie-dyed jumpsuit which she wore for the next couple of days.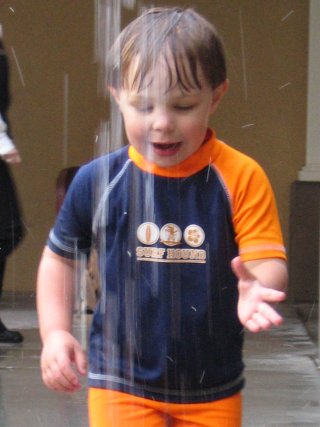 Later that evening we went in search of Ian to give him his replacement car. We were very pleased that he was happy with what we selected to replace the broken one.
Before returning to our room it rained pretty heavily and Cameron decided to run around outside with some other children under an overflowing gutter. They all seemed to be having a great time.

9 September 2006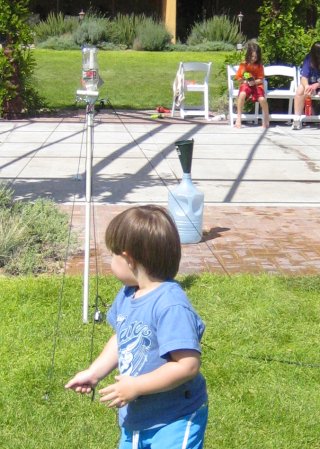 Today I went to see a talk by Ben Lovejoy called "No Rules Just Principles". It was a very excellent talk, and was based on the book "the Velveteen Principles" which I now plan to buy.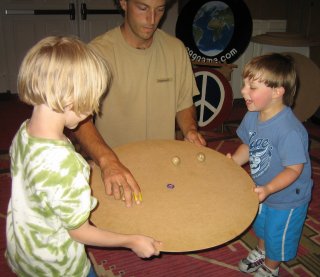 After lunch, me and Cameron went to the Water Rockets funshop while Emily and Geoffrey went to "Let's Talk Sex". Cameron and I had a wonderful time making a water rocket. Cameron provided instructions on the shape of the rocket fins -- he wanted triangles but not like the first ones I drew, so I had to try again. I did the cutting and Cameron did the sticking, while I held the fin in place. We also had to add some creative touches which included a small triangle and a circle. We then put some water in it and took it to the launcher for a try. Cameron and I thought it was great fun -- we had a couple of turns at it. Our rocket went pretty high and floated down nicely -- this earned Cameron the "little rocketeer" tag.
Cameron tried out the Original Egg Game which involves keeping spinning egg(s) on a board that you can swing around.

Later in the afternoon was the Dad's Panel. Ben Lovejoy asked Geoffrey if he could talk a little bit about how he came to decide on unschooling and how we ended up coming to the conference (the short version: it was his birthday present from me). We were the only Australians at the conference and so we were often referred to as "The Australians".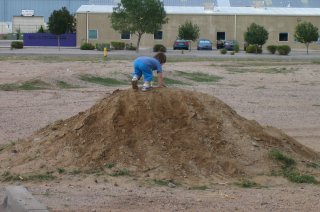 After the Dad's panel Geoffrey took Cameron off to what should have been the RC Car funshop but no one else was there (presumably because it looked like it was going to rain) so Cameron just played in the mud and dirt for about an hour. This seemed to excite him as much as the RC cars had a few days before.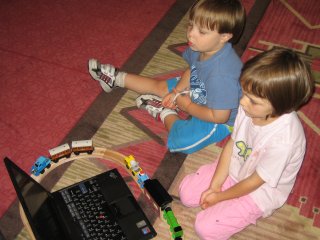 That evening we had the conference dinner. Cameron watched Wallace and Gromit with a few other kids while we ate. Me, Cameron and Emily had an early night as we were all tired while Geoffrey stayed on and showed his home-made Segway video to a few other conference attendees who thought it was great.

10 September 2006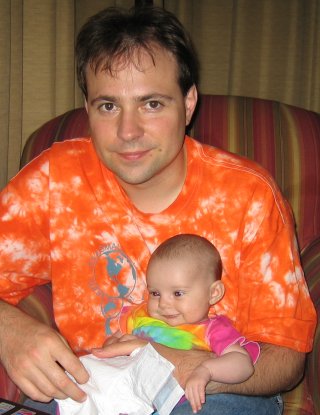 This morning Emily woke up really early (7am) and didn't seem so keen on going back to bed so Geoffrey took her downstairs to be at the conference on-time for the first time. He chatted with Ren who was running the Letterboxing funshop and he found out what Letterboxing actually was.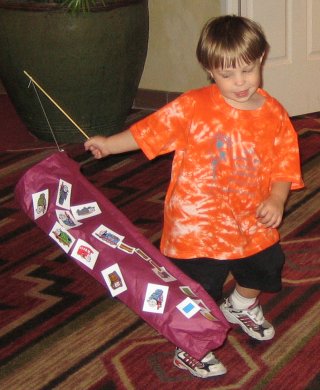 Cameron and I got up just in time to go to the kite making funshop. It was really a lot of fun. Cameron took some Thomas stickers that came with an activity book that Grandma gave him just before he left to decorate his kite. Cameron seemed very pleased with the end result and ran around with it lots before insisting on showing "Daddy".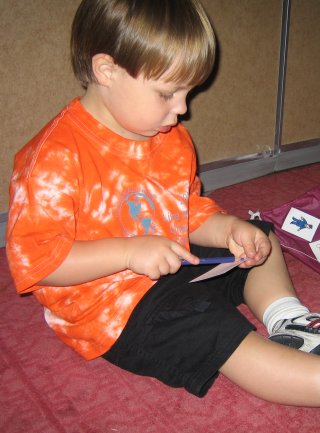 After showing Geoffrey the kite Cameron and I chose to join the Artist Trading Card funshop, and Cameron decided that I should draw Thomas and Friends engines on his trading cards. We made a number of cards that we turned into a jigsaw puzzle. Towards the end of the session a couple of kids come over wanting to trade cards, but Cameron won't part with any of his cards :-).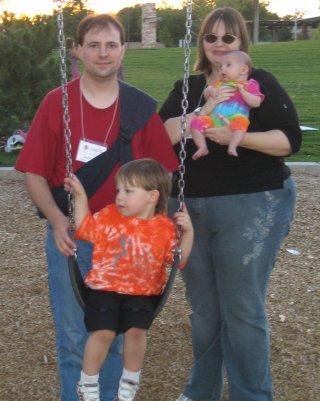 At 3pm we headed off to the farewell picnic -- the final conference activity. Cameron had a wonderful time playing in the park with all of the other children, while Geoffrey and Emily were off talking to a number of people. Emily got hugs from lots of different people over the course of the day -- people really seemed to be quite taken with her.
I got to sign about 3 t-shirts (because I was one of "The Australians") and I had one girl ask me to get Cameron to say something to her because apparently her friends had told her that she just had to hear the "little Australian boy" talk because his accent was so cute. We played in the park until about 7:15pm when it was obvious that both Cameron and Emily were very tired.
A funny story I just have to record: When we were playing in the park with hundreds of unschoolers a little girl was yelling in a little boys face (these two were both unschoolers), and a second boy (who was not part of our group) came up to them and told the little girl to be nice, at which she dashed off never to be seen again. The little boy then asked the boy who helped him out whether he wanted to play to which the boy replied "I can't -- I have to do my homework!". I found this rather amusing.

11 September 2006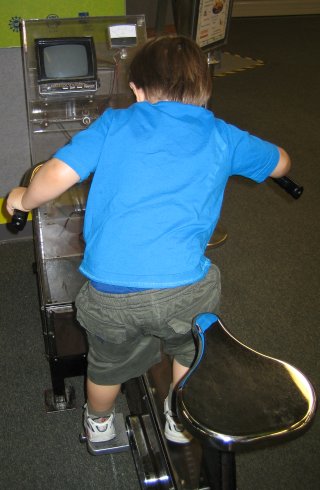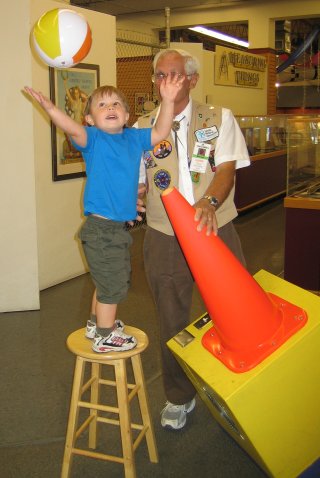 Today we slept in until about midday, and didn't manage to get out of our hotel room until about 2:30pm. We ran into a few unschoolers downstairs, and Sandra Dodd offered to give us a lift to the airport on Wednesday which was gratefully accepted because of the taxi/children issue.
We were planning on going to the "Dinosaur Museum" but only made it as far as the Atomic Museum where Cameron had fun riding the bicycle that generates electricity, and watching the ball that hovers. When Cameron got bored, we went off to the Melting Pot restaurant for a combined breakfast, lunch and dinner of chocolate fondue with extra strawberries for Cameron.

12 September 2006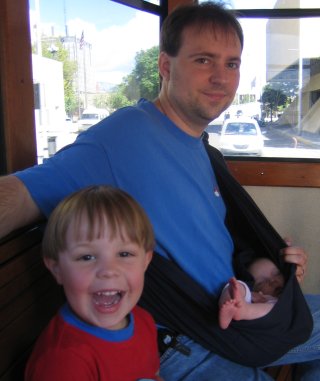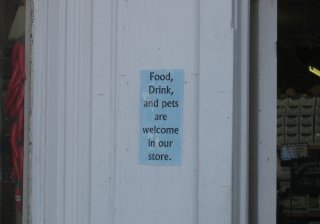 Today we slept in late again. After we left the hotel at about 1:30pm, we went to find where we could catch the Albuquerque Trolley Car. We managed to catch it just down the road from our hotel in Old Town, and while waiting, Geoffrey found a store that advertised "Food, Drink, and pets are welcome in our store". We rode the Trolley Car to the Alvarado Transportation Center in Albuquerque city and back for just $2.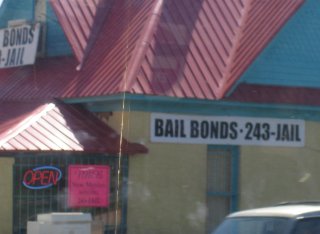 Near the court-house in Albuquerque there were many places advertising "bail bonds". If I was in need, I'd pick the one with the easy-to-remember telephone number "243-JAIL".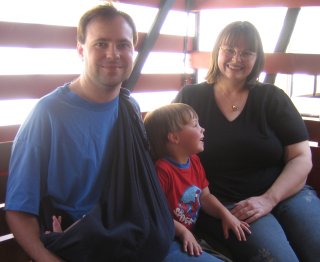 After the trolley car ride we caught a bus to the aquarium from where we wanted to catch the train that runs between the aquarium and the zoo but when we got to the station, the last round trip train had just arrived. The train drivers were really lovely and agreed to take us down one station where we could catch the return train which we would otherwise have missed. It was about a 30 minute round trip.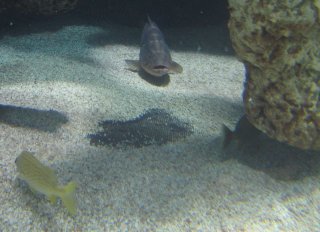 After the train ride we went to the cafe at the aquarium to get a drink. There was a glass wall looking into an aquarium with fish, stingrays, and sharks, which kept Cameron amused for a while.
At dinner we caught a bus a few miles up to Coors Drive to eat at Dion's Pizza which we had heard was good. Unfortunately we ended up with bacon instead of barbeque sauce on the pizza, and there were plenty of flies inside the restaurant, so the experience wasn't as good as expected. They did have an area where you could watch the pizza being made, and Cameron did quite enjoy standing there.

13 September 2006
We checked out of our hotel today just before noon. It's nice that check-out at hotels in the US is usually 12pm -- in Australia, the usual check-out time seems to be 10am. Sandra and her daughter Holly took us to the airport for our flight to Denver. In the security line, we took off our shoes to be x-rayed as that seemed to be the done thing. I wonder if that was actually required as I didn't see any signs asking us to, and nobody asked us to.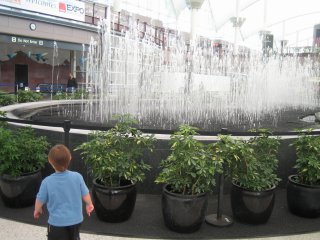 The plane flight was nicely short. An interesting thing that we found out was that on Frontier Airlines it isn't a requirement for the armrests to be down during takeoff and landing. Makes you wonder (again) why other airlines require it.
When we arrived, Cameron was pleased to see that a train would take us to the baggage collection, and he also enjoyed looking at the fountain. We picked up our car from Hertz and drove down to Denver, stopping for crying children, and KFC where they don't claim to sell burgers (which caused Geoffrey some confusion), but their "sandwiches" look remarkably similar to our burgers. The claim of "double-crunch" was very dubious -- the only crunchyness was the lettuce. I don't think the 11 secret herbs and spices are the same as ours either, but it did taste good!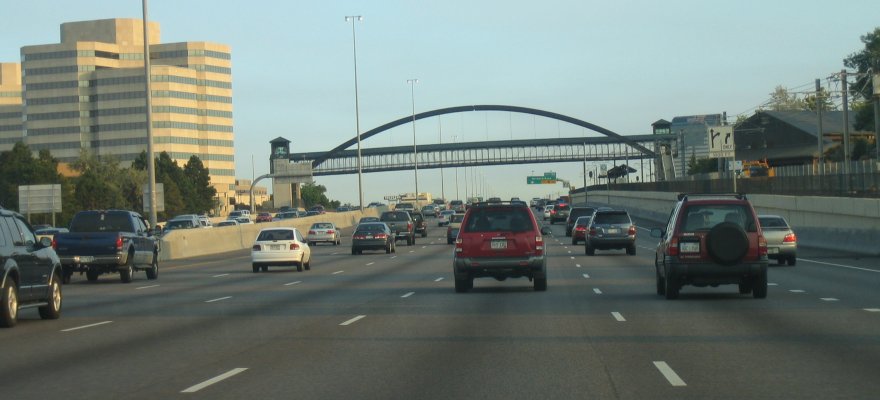 On the way down we passed an amusing sign near one of their jails which said that you should not stop for hitch-hikers.
The Hertz NeverLost system worked well enough for getting us to the Hilton Garden Inn in Colorado Springs, which seems to be nice enough. We did some washing which Cameron enjoyed helping with, then went to sleep.
14 September 2006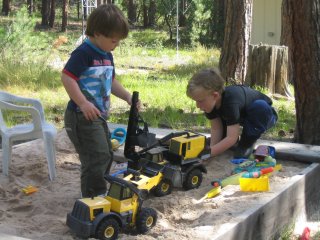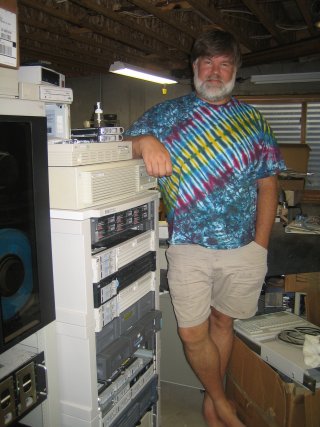 Today we went to visit Robert, Karen, Bdale, and Elizabeth Garbee. NeverLost didn't know about the streets in Black Forest, but we only had a little trouble following the directions from MapQuest that Karen sent us. Robert and Cameron played in the sandpit for a while while me, Geoffrey, Bdale, and Karen chatted. We had a lovely lunch on the deck, then Geoffrey got a tour of the basement while I got a tour of the house.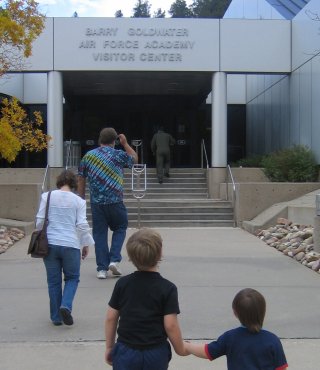 We all headed off to the US Air Force Academy Visitor Centre to have a look around. While we were there, there was an amazing thunderstorm. I've never been that close to lightning before! Quite probably, the locals see thunderstorms like this all the time, but for us, the view of it was just awesome.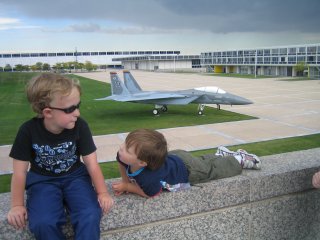 When we got back to the Garbee's place, Elizabeth was home from school, so she got to meet Emily. Bdale had to leave for a conference, but we stayed for tea. Shortly after tea we left because Cameron was getting tired. He fell asleep in the car on the way to Walgreens to pick up some more nappies, but then Emily woke up and everyone was unhappy for the rest of the trip home despite plenty of milk, clean nappies, and cuddles.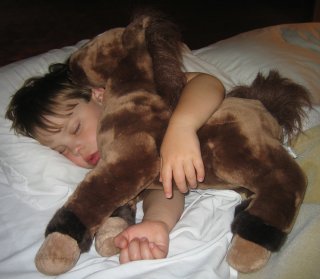 The Garbee's gave Cameron a toy horse, and Emily a toy doggy purse. Cameron went to sleep with his horse.

15 September 2006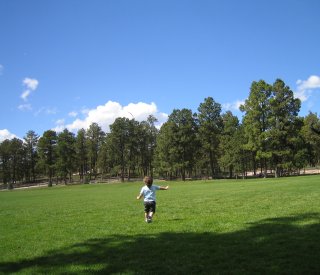 Slept in again today, to get to the Garbee's house by midday. We all (myself, Geoffrey, Karen, Cameron) made sandwiches and went to a local park to have a picnic.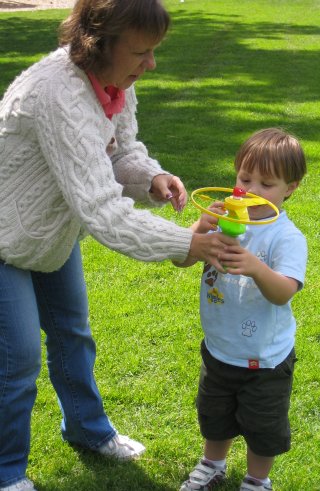 The picnic was nice, but the bees weren't so fun. We squished one, but he brought friends so we moved from the tables to the grass. Cameron enjoyed playing with Robert's balloon rockets, kicking the soccer ball with Geoffrey and Karen, and playing on the playground equipment while me and Emily watched.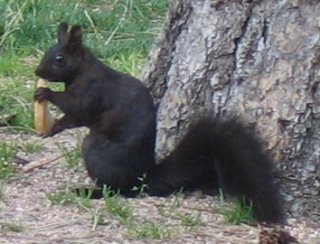 We got to see a black squirrel and a red squirrel which was pretty cool. You don't see many of those in Australia.
At about 3pm we headed off to see Robert's school. He was very excited to be showing us around and he introduced us to a few of his teachers. Cameron was pretty taken with the play equipment.
Afterwards, Cameron was looking pretty tired and unhappy, so Geoffrey took him out for a drive so he could fall asleep. For dinner we had American-style BBQ which was really really excellent. Geoffrey sat in the car eating his since Cameron did fall asleep during the drive and we didn't want to risk waking him while bringing him inside.
After dinner, Cameron woke up and looked much happier. He had a melted cheese sandwich and applesauce for dinner. Later on, Karen read "Curious George Makes Pancakes" and "Harold and His Purple Crayon" to Robert and Cameron.

16 September 2006
Today we went to the North Pole Amusement Park with Robert and Karen, in separate cars so we could continue on to Golden, Colorado afterwards.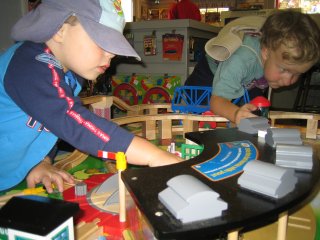 The North Pole is great for children as there are heaps of rides with no age/height restrictions. Geoffrey went on most of the rides with Cameron, even one that spun around fast enough to make him (Geoffrey, not Cameron!) feel ill, although I even managed to summon up the courage to go on a few rides that Geoffrey wouldn't! Karen took Cameron on the roller-coaster as neither of us wanted to go on it. We were a bit nervous that Cameron wouldn't enjoy it, and he looked a bit undecided on the first lap around the track, but after that he looked like he was having fun.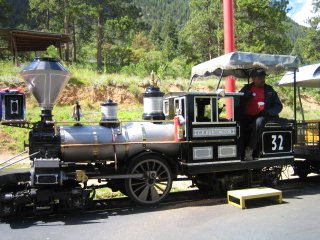 There was even a train ride which Cameron of course enjoyed, and in the toy store they have some Thomas stuff available to play with which was a great hit.

Some other rides that Cameron went on: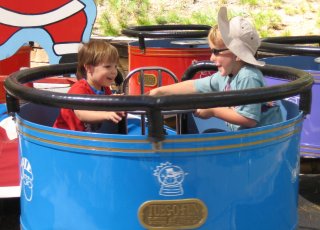 Tubs-o-fun: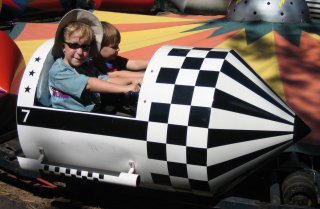 Rocket Ships: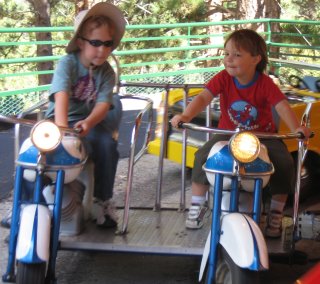 Merry-go-round with vehicles: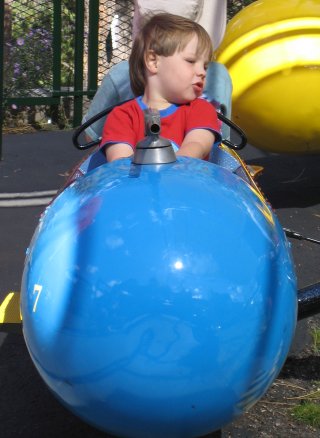 Go-round things that go up and down: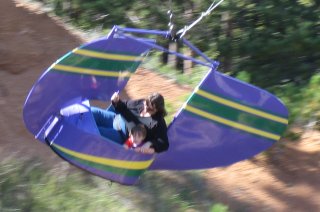 Flying things: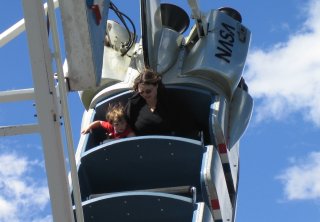 Santa's Space Shuttle: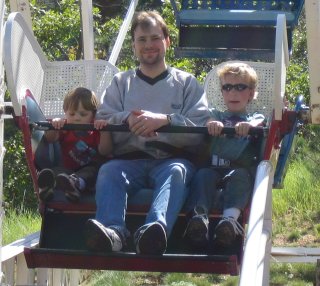 The Highest (not tallest) Ferris Wheel In The World:

About 4pm we left for Golden (near Denver) to stay at the Holiday Inn. Geoffrey loved that our hotel room door overlooked an indoor spa bath, pool, and games area with foosball, air hockey, table tennis, mini-golf putting green, and arcade. Cameron and Geoffrey went to Target (just across the street) to get a duffel/sports bag to hold all the extra stuff that won't fit in our suitcases anymore, and to get some tea. Later on while I packed, Geoffrey, Cameron, and Emily had fun in the games area, where Cameron met a girl his age called Kira and played mini-golf with her. It turned out to be a pity we were only staying here one night as the hotel and area looked really nice.
17 September 2006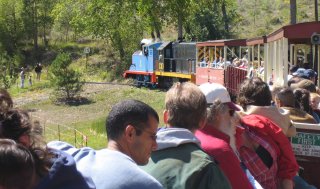 The stay in Golden was so that we could take Cameron to the "Day Out With Thomas" being held at the Colorado Railway Museum. There was off-site parking as they were catering for a huge crowd (hundreds of cars there at time, about 200 people on Thomas ride, 10 rides a day). It was quite well organised with shuttle buses running frequently. They even had toilets in the parking lot.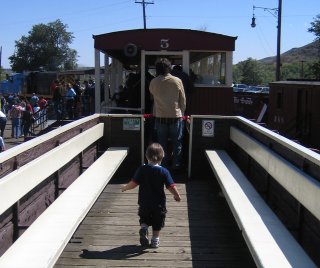 Cameron enjoyed the miniature railway, then we had the ride with Thomas which Cameron also seemed to like.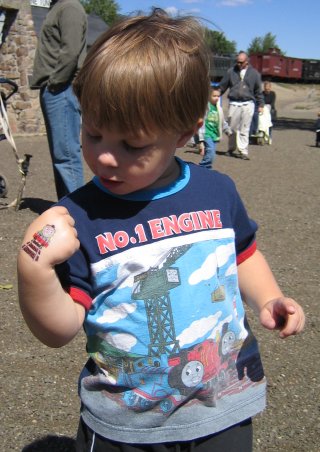 After the Thomas ride Cameron found an Amtrak ride-on train. I didn't have any quarters, and Geoffrey had gone off, but I met a fellow Aussie who gave me a quarter, so Cameron and his son rode it together. While on the way to meet up with Geoffrey, Cameron got a Henry tattoo.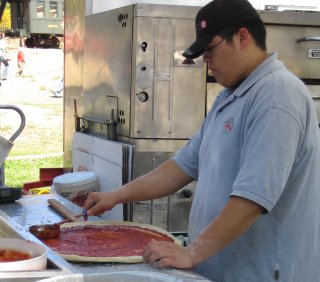 For lunch, I had a slice of pepperoni and cheese pizza, made onsite. It was really good.

Then we decided that it was time to start trying to leave, as the Thomas shop was bound to take a long time to get through. And it did! It had more Thomas stuff than we knew existed -- trains, track and accessories of course (although not much wooden, mostly Tomy plastic), but also books, balls, hats, temporary tattoos, toothbrushes, t-shirts, pillowcases, sheets, sunglasses, stickers, shoelace clips... We bought a few things, including a surprise for Grandma.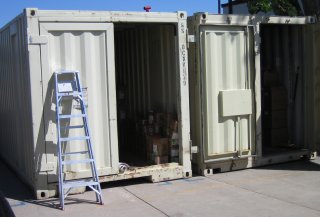 Just outside the shop you could see a few large shipping containers which all the stuff for the shop presumably came in.
Next stop was the airport to fly to San Francisco. My ears were problematic on the way down and afterwards, and Cameron and Emily weren't as happy on this flight as they were on previous flights, but their ears luckily didn't seem to bother them.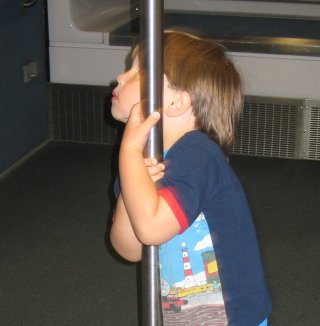 When we arrived in San Francisco we rode the air-train to pick up our car from Hertz. We are sure glad we forked out the AUD$50 to become "Gold Club" members -- the pleb line looked very long (I guess 70 people in it), and while waiting in the Gold line (with about 3 people ahead of us), we heard that one lady had waited one hour in the pleb queue only to get to her assigned car park which didn't have a car in it! We got an upgrade to an SUV (Ford Explorer) because they had run out of the the car type we had requested.
Just after we left the car park, Emily got rather upset, so we found a McDonalds to stop at for a while. We called Christine to let her know that we were still on our way. We had a little bit of fun with NeverLost on the way as the freeway exit we were meant to take didn't exist any longer. After driving around for a bit, it gave us an alternate path that did exist and we arrived at about 11:15pm I think. Christine had set up our bedroom with two double beds which was excellent since this was the arrangement that we had all gotten used to in the hotels.

18 September 2006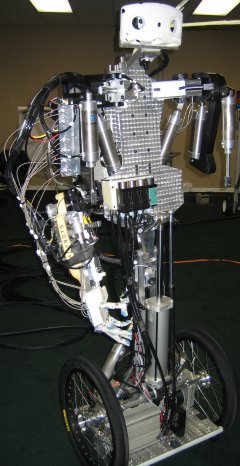 Seeing as both me and Cameron have a cold we decided to take it easy today. We stayed at "home" and played with Christine for a bit. Then we went to Fry's Electronics to have a look around. We went there thinking that we didn't need anything and walked out with a bundle of stuff including Karl Bennett's birthday present.
For dinner we had a really nice pasta bake. After dinner Geoffrey went off to visit Trevor Blackwell at his workplace (the guy whose self-built Segway inspired Geoffrey to try it himself). Trevor had a few interesting robots that he was working on. Geoffrey also got the obligatory tourist photo of himself riding on Trevor's scooter.

19 September 2006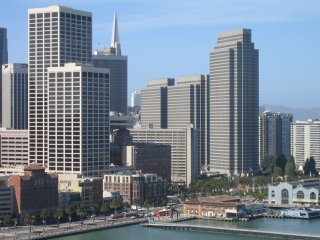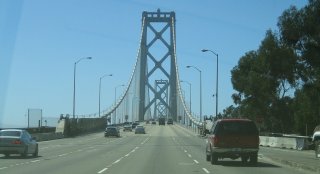 Today we decided to go into the city to see the San Francisco Trolley cars (made famous to us by The Wiggles). We decided to drive into the city and we had to go across the bay bridge. It was $3 to get across the bridge and the view was more than worth it -- it was so lovely. I was very excited.
When we got into Union Square we went straight to the cable car stop so Cameron could ride on the cable cars (aka trolley cars). The first few were very full so we thought that we should wait a while for one that was not so full. As it turns out they are all pretty full.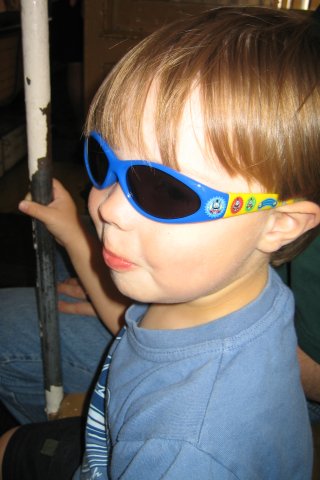 When we got on the trolley car Cameron was very excited. The trolley car took us up and down some very steep streets. We took the trolley car all the way to Fisherman's Wharf.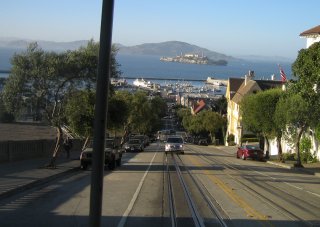 Once at Fisherman's wharf we had some lunch at an Italian restaurant. We shared a BBQ Chicken pizza which was really nice. I really wanted to go on a boat cruise under the golden gate bridge but we had forgotten jumpers (and it seemed like it would be cold out in the bay) so we went and bought a jumper each and a gift for Joshua -- I won't say what we got just in case his Mummy or Daddy is reading this to him :-).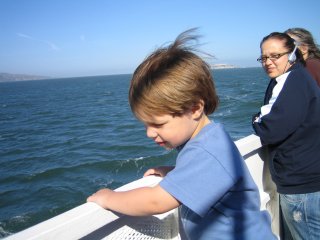 We then went to find someone to take us on a cruise. The cruise was really good. It was awesome to see the Golden Gate Bridge up close. We also got to see Angel Island and Alcatraz. Cameron also really enjoyed the cruise -- he even managed to gain enough sea legs to continue with his usual joyful investigation of everything.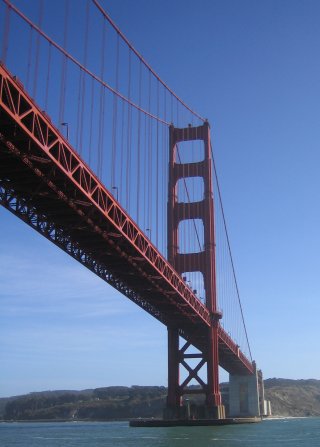 After the cruise we decided it was time to head back to the car so we went in search of the trolley car stop. We found it and the line was very long. I figured it was time to let Christine know that we wouldn't be home for tea as I guessed it would be about 2 hours until we got home.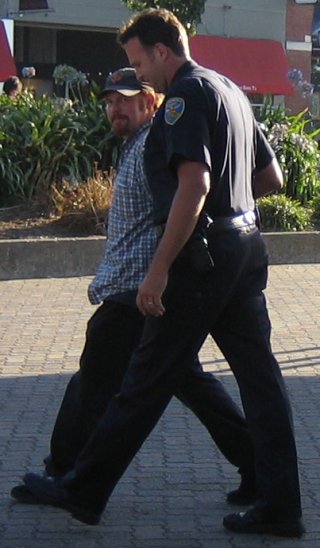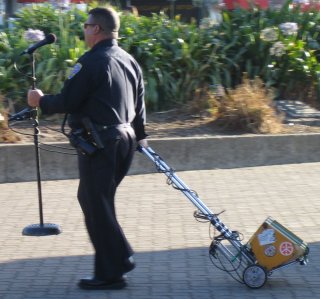 The trolley car wait ended up being about 1 hour, but while waiting we had a bit of entertainment when a street performer was arrested by the police. We couldn't quite work out what he had done wrong but watching the police cart his stuff around and try to fit it all in their patrol car was amusing.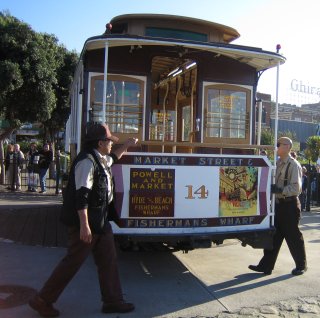 Cameron was also amused for part of the wait by seeing the cable cars being turned around on the turn table at the end of the line.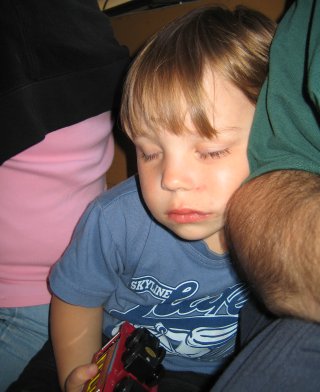 The trolley car we got on was very full and it had been a long day for both Cameron and Emily and they were both fairly unhappy until we got underway. Then they both fell asleep pretty quickly. We made our way back to the car, paid our $30 parking fee and got out of the parking garage with no hassles.
Trying to get out of the city was another matter -- we had hit the peak 4 hours. First we mised the turn off then there were lots of one way streets and no left turn streets so it was difficult to turn around. Just as were were trying to get on the bridge Emily because unhappy and Cameron followed suit. We tried to find somewhere to pull over to help them both but it took a while to find somewhere suitable. Eventually everyone was happy again and we were on our way. We stopped at Wendy's for a quick dinner before continuing home. We arrive home at about 9pm -- four hours after we started out heading that way. Cameron was a little bit sad that he was not able to play with Carl (he was already in bed when we got home), but when we told him he could play with Carl's tomorrow he seemed a bit happier.

20 September 2006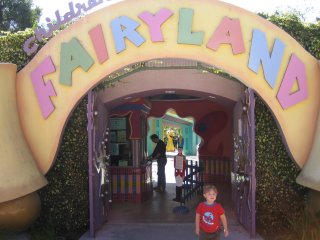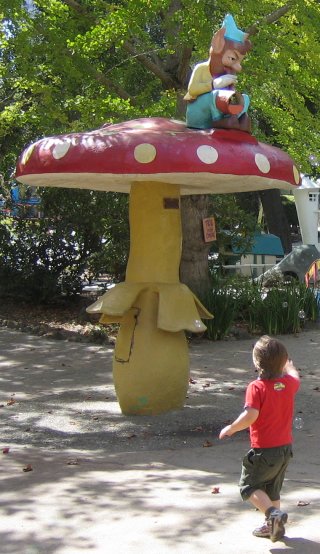 Today we went off to Fairyland. Fairyland is a little theme park that has some scenes from fairy tales that children can play on/in. Cameron's favourite ride seemed to be a little train called the Jolly Trolly -- in fact he went on it 8 times while we were there. One time he went on the trolley he actually went in a car with a different family while Geoffrey rode behind them because Cameron wanted to go in the Yellow car (you can only have four people per car and there were three people in the other family).
Cameron also went for a ride on a mini ferris wheel and had great fun playing under the mushroom that has bubbles coming from it. The great thing about fairyland was that there were so few children there that we didn't have to wait to do anything. Apparently we came on a good day as there were no school excursions that day.
After Fairyland closed we went home via Fry's so we could get the dance mat that Geoffrey was after and a gift for the Lerdorf's. When we were at Fry's earlier me and Christine were eyeing off a chocolate fountain, it was a bit too big for me to bring home but Geoffrey and I thought it would be a nice thank-you gift.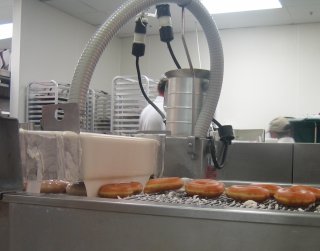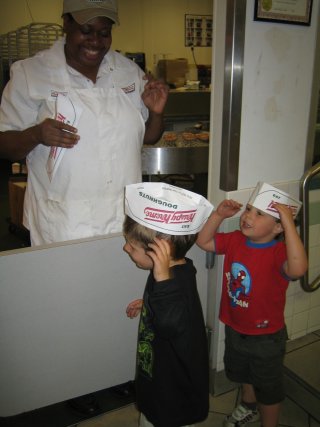 That night after tea we went to Krispy Kreme Doughnuts. They make the doughnuts in the store and it was very fascinating to see. Cameron and Carl had a great time running around and looking through the viewing windows to see the doughnuts being made. The ladies making the doughnuts seemed to enjoy watching Cameron and Carl too.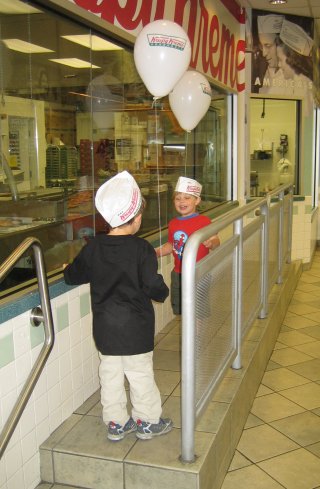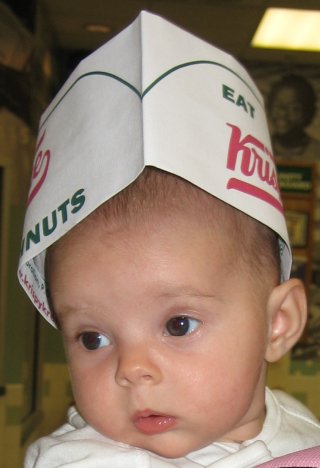 The children got free hats and balloons, which were a real hit. We also got 9 free doughnuts and paid for 12.
We had planned to leave tomorrow but Christine invited us to stay longer, and since we are having such a wonderful time, we decided that we would stay for an extra two days.

21 September 2006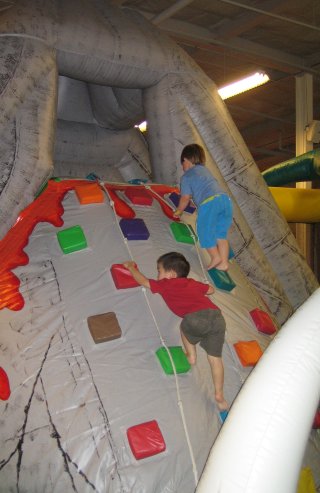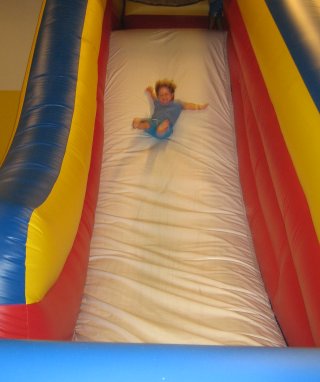 Today we decided to go to a local shopping mall to see what we could find in the way of shoes for Cameron. We got Cameron some nice flashing shoes from stride rite. Cameron himself wasn't so interested in buying shoes because he saw a bouncing castle play place for kids.
Right after making sure that the new shoes fit Cameron rushed off with Geoffrey to try out the play place. He had a wonderful time while I continued to look around the mall.
At 4:30pm we were meant to meet Christine and Carl in the park, but we had a bit of difficulty finding the place. I didn't remember the name of the place corectly and took us to completely the wrong park!
Eventually we gave up on trying to find the park and went home. Christine brought some pizza home for tea, which was really nice. I think in was pepperoni and sausage pizza -- very American.
That night before bed Cameron and Carl had great fun in the big bath whiloe I fed Emily downstairs.

22 September 2006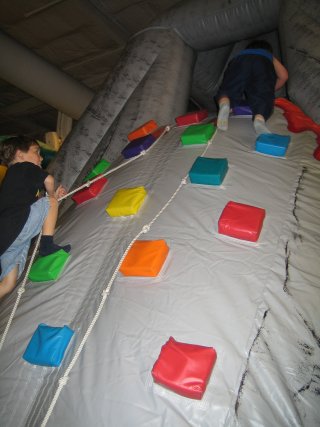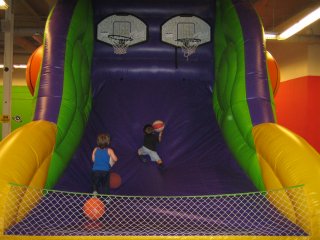 Today was a day that Carl did not go to preschool so we got to meet his Nanny -- Latifa, and Cameron and Carl got to play together heaps.
Geoffrey took Carl and Cameron to the bouncy castle place while I did some more shopping -- I really wanted to get some new glasses frames so I had a look around and found some that I really liked for a very cheap price.
After about 1 hour me and Emily met up with Geoffrey, Cameron and Carl so that we could get some lunch. Cameron shared Geoffrey's rice and had some chips while Carl chose a bean burrito.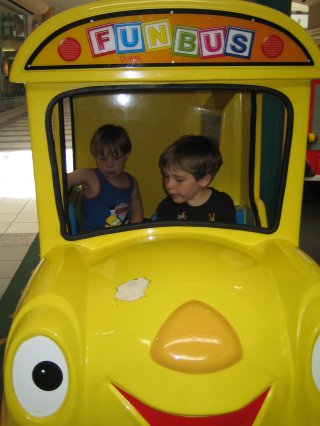 After lunch Cameron, Carl and Geoffrey found some rides (like you find at the entry to supermarkets in Australia) and they had a great time on the fire engine ride. They rode it about 5 times. They also liked riding the fun bus -- I think because it reminded Carl of the Magic School Bus which is one of his favourite shows at the moment.
At around 3pm we met up with Christine who had finished work for the week. We did a bunch more shopping. Geoffrey and I got a pair of sneakers each for a total of USD$73, which I thought was pretty amazing. I also got a another pair of shoes from a different store -- two pairs of shoes in one day is a bit of a record for me!
While Geoffrey and I were looking for shoes (and jeans for Geoffrey), Cameron and Carl had great fun pushing a stoller/shopping cart combo around the store. They ended up with Carl riding on Cameron's trolley while pushing his own which we all thought was pretty neat. It was great to have Christine there also as she was brave enough to watch all the children at once while Geoffrey and I got shoes and jeans.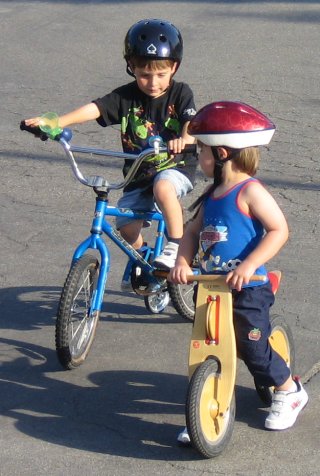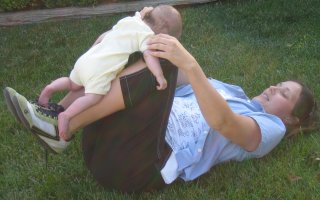 Right after we got home from shopping Cameron and Carl got out the bikes and played with those. Carl had a couple of different bikes in the garage so Cameron tried out a few with Carl while Christine played with Emily.
That evening Geoffrey went back to Frys to replace the dance mat that he had bought earlier in the week with one that worked with the PS2/USB converter that he had. It took a fair while but in the end he got a working dance mat which he was pleased with.
While Geoffrey was out Christine and Carl went shopping for dinner which was barbeque steak and a Baskin & Robbins icecream cake for dessert. The food was really great. The icecream cake even had Carl and Cameron's names written on it.
Late in the evening Carl and Christine went out to pick Rasmus up from the San Francisco airport. We were all in bed by the time they got back (which was after midnight).

23 September 2006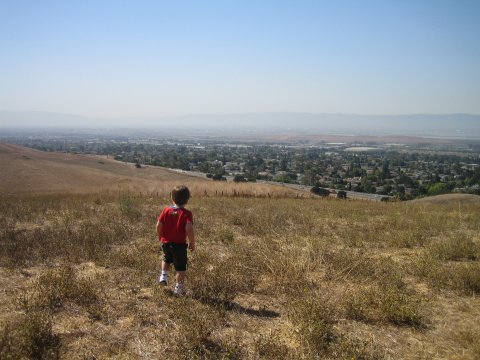 This morning we went for a walk to a "mountain" that you can see the bay from. I was a bit concerned about just how big this mountain was, given the use of the term "mountain". I can tell you I wasn't very reassured when Rasmus -- someone who had just returned from a lengthy run -- told me that it was "not that big". As it turned out he was correct :-) and the view was quite lovely.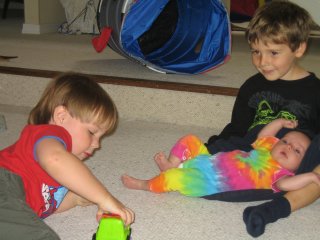 After we got back from our walk we packed the car while Carl and Cameron played with Emily.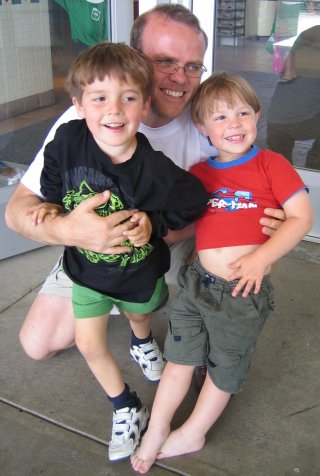 For lunch we went to a place called Fresh Choice -- an all you can eat salad, pasta and dessert type place. It was pretty good lots of variety. Cameron and Carl had a little bit of difficulty saying goodbye to each other. Cameron was a little upset in the car after we left the restuarant. He said that he wanted to take Carl to Disneyland with him :-(
Before setting off on the long drive to Anaheim we stopped to change Cameron's car seat for a booster because he kept complaining that the five point harness was bothering him and he was right at the weight limit for moving up to the next seat. We did that with very little problem and then we were off (at 3:30pm).
Cameron and Emily fell asleep for the first 2.5 hours of the trip. When they woke up we got off highway 5 and had some dinner -- Carl's Jr -- it was pretty average. We started off again with two awake children. Emily fell asleep again pretty quickly but Cameron remained awake for the rest of the trip.
On the way into LA we saw a pretty big bushfire burning about 45 minutes out of LA. It was interesting to see but unfortunately I couldn't work out how the get the camera to take a phot of such a thing in the dark.
We arrived in Anaheim just after 10pm and went up to our room for a rest. It took Cameron and Emily a little while to wind down after the trip so we were all in bed pretty late.

24 September 2006
This morning we went to Walmart to get a couple of toys for Cameron and most importantly to buy a new duffle bag to bring home all of the stuff that we have bought.
Before heading off to Disneyland we discovered that we had left our pack of travel information behind at the Lerdorf's. This included Emily's plane tickets. Christine was kind enough to send it down to us along with the t-shirt, jocks and one sock that we had left behind -- it seems that my final check of the room we were staying in was a bit faulty!
With that little drama sorted Geoffrey and Cameron went off to return the car. Cameron was a bit sad to give up the car as he really enjoyed "riding in the boot" (there were three rows of seats -- that's why he thought he was riding in the boot).
Emily and I met Geoffrey and Cameron at Millies Cafe for lunch. I really enjoyed the pot roast, and Geoffrey had a burger which was also good. Cameron enjoyed the saltine crackers that were on the table.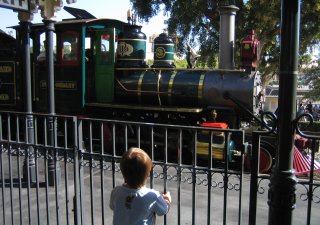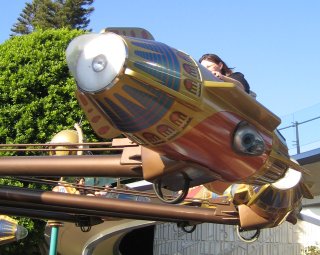 After lunch we headed off to Disneyland. Cameron had a wonderful time. We spent a fair bit of time in Fantasyland and Toon Town -- these are the places that seem to be designed for the younger children.
Our first ride of the day was of course a train ride, the Disneyland express. Cameron wasn't so keen on this ride because it had a tunnel that had things that were going "rar" in it (those would be dinosaurs). Later on he talked about how the things that go "rar" need to watch out for trains so they don't get run over. The next selection that Cameron made was the Buzzlightyear Astro Orbitors. This is a ride that you can control the height of, and Cameron was in charge. I tried to tell him that if he pushed the handle forward we would go lower. I am not sure if he didn't understand or if he just liked being high. Next we all (including Emily) went on the Alice in Wonderland ride.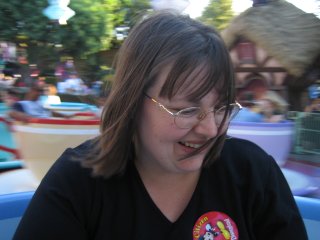 We then went on the Tea cups -- one of my personal favourites. I had a great time.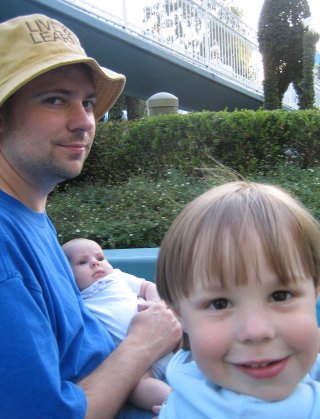 It was then off to the "It's a small world" ride. This was another ride that was great for the whole family. Cameron was really excited by the singing and all of the the things that there are to see on this ride.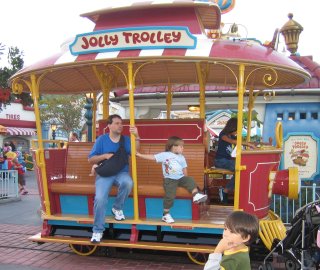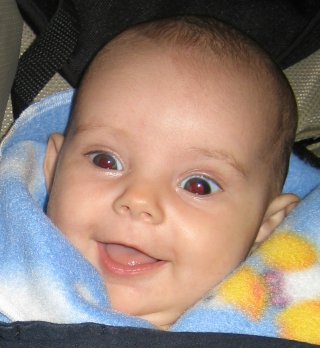 Cameron then found another Jolly Trolley. This one however didn't move, but he loved it anyway. I think he spent about 1 hour playing on it. Emily was also having a great time "talking" with me.
After taking a few more rides we found the favourite ride of the day. It was a circus train. Cameron went on it three times with Geoffrey and once with me before we convinced him it was time to go home at 9:30pm.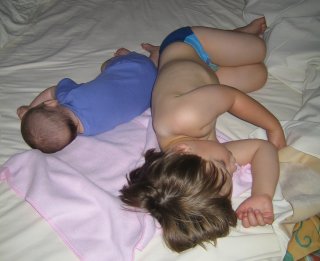 After we got back to the hotel Cameron was still very excited. It was just after midnight by the time everyone finally got off to sleep. Cameron and Emily even fell asleep together which is a bit unusual.
One other thing to mention from today is that Cameron has started using one of my phrases "not a fan". I asked if he wanted to go on a boat ride and he said "I am not a fan of the boat", which Geoffrey and I thought was rather cute.

25 September 2006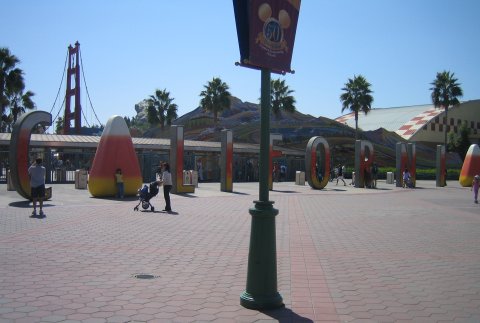 Today we used our three day park hopper pass to go to California Adventure Land. We needed to get some lunch when we arrived, and Cameron wanted rice, but after asking at guest information it was proving difficult, so we promised rice for tea. Instead for lunch we went to a place called pilot's lunchbox (or something like that). The food was not so great but Cameron got a cool Buzzlightyear straw and a lunch box to keep.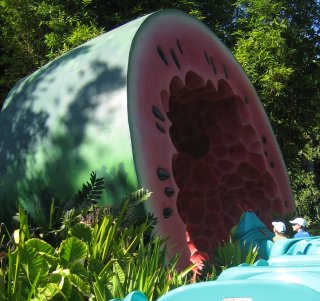 Cameron was keen on a "different train ride" so we went off in search of the "Chew Chew train" in Bugs Land. Cameron really enjoyed the train going through the watermelon because it dropped little bits of water on the train as if the watermelon was being eaten.
We did all of the rides in Bugs Land before heading off to find more exciting rides.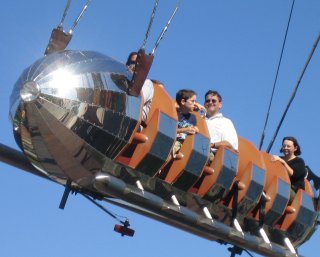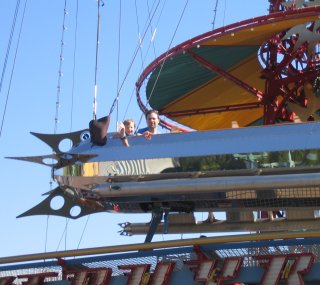 Cameron asked to go on a ride called the Golden Zephyr. It is basically a rocket that swings out as it goes around in circles. I was the one lucky enough to get to go on that ride with him. I was pretty nervous about it especially when the attendant indicated that it was a "wind sensitive" ride and that it couldn't get started if the wind speed was over 10mph (which it was when we first got on). Eventually the wind died down to 9.9mph and we were off. The first time the ride was a bit scary, but the second time it was better.
After two goes with Cameron he was quite insistent that Daddy have a go so Geoffrey got to have a couple of turns (about 3 I think).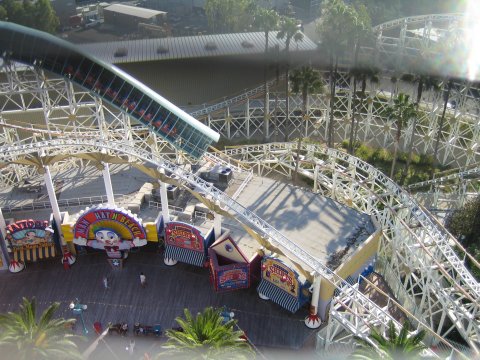 Cameron also wanted to go on the ferris wheel which just seemed a bit too scary for me, so Geoffrey went with Cameron. The ferris wheel went very high and it seemed to give a great view of the park.


Cameron really enjoyed watching the roller coaster go past and asked numerous times to go on it. Unfortunately (or maybe it was fortunately) he was too small to go on any of the rollercoasters in this theme park.
That night as promised we had rice -- we got hotel-delivery from a local chinese shop.

26 September 2006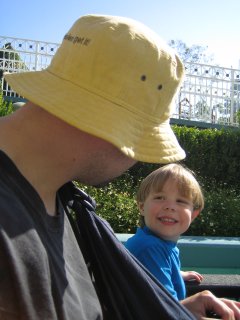 Today we went back to Disneyland for the final time on this trip. We rode on the "It's a small world" ride three times, because that is what Cameron wanted to do. The only other thing that Cameron wanted to do was ride on the horse and cart but we unfortunately missed that one as the horses went in at 4:30pm for the night.
We also managed to find the place that does name engraving on glasses so we got one for Cameron and Emily.
We had to rush back to the hotel room at 5pm to finish packing in time for the 5:40pm Mickey Mouse bus back to LAX. The bus driver that took us to LAX was a bit funny. He told us we would be in for a culture shock because we were going from the happiest place on earth (Disneyland) to the grumpiest place on earth (LAX). It is funny because it has a ring of truth to it -- evryone is very serious in airports now which is so unfortunate.
Checking in at the airport took ages even though we were first in the queue. For some reason Emily wasn't listed as travelling with us which caused some hassles. I find it rather amusing that they issue a ticket for a 9 week old but don't have her connected with an adult. Also, for some reason, at LAX the bags don't get to go straight on the conveyor belt -- we had to put them on the scales, get them tagged and then take them to a place off to the side for screening before they eventually get put on the same conveyor belt.
On the plane we ended up with 4 seats in the middle of the plane after an air hostess offered a exit-row seat to the lady sitting next to us. This was wonderful because then Cameron and Emily were able to share the two middle seats while sleeping.
Cameron slept from almost the start of the flight for about 9 hours, and Emily slept for about 8 hours, was awake for 2, then slept on and off for the rest of the flight. We were again very fortunate for the plane flights. Geoffrey managed to get a fair bit of sleep while I managed to get about 1 hour.

27 September 2006
We crossed the international date line during the plane flight so we lost this day.
28 September 2006
When we arrived in Auckland we got to go through the families with small children line, which meant almost no waiting. The person who granted us entry was really nice -- he gave Cameron a stamp on the hand, because Cameron asked. He even obliged when Cameron indicated that he wanted a particular stamp (not the one he had originally gotten). One funny thing though, the immigration officer asked to see Emily's face to compare it to the photo -- rather amusing to us but we didn't argue.
Once clearing customs and immigration we were off to pick up the rental car. Our car rental was with Hertz and we were very annoyed to find out at 6:30am in the morning (after a long overnight plane flight) that they do not rent infant car seats. This was particularly irritating as we had gone to the Hertz counter in Auckland on 1 Sep 2006 with Emily and explained in great detail that we required a rear facing infant seat for a 10 week old baby. How they thought she would be able to sit upright herself in a forward facing child seat is a bit beyond me!
In the end Geoffrey had to take just Cameron in the car while Emily and I caught a shuttle bus to our hotel. Later Geoffrey found the Royal New Zealand Plunket Society which (among other things) rents car seats. Cameron and Geoffrey went off to collect the car seat while Emily and I stayed at the hotel. The place they picked the car seat up from had a children's playground and play-room, so it took a while to actually get that done, and afterwards they had lunch and spent some time at a park so that me and Emily could get some sleep. Neither of us succeeded very well with sleeping though.
Cameron worked out how to open the hotel room door on his own and kept running around outside by himself -- most of the time he was not fully dressed, which amused some of the people around.
29 September 2006
Today we had planned to drive up to Rotorua. We were told it was a 2.5 to 3 hour trip, but we knew it would take longer with two children - it ended up taking about 5.5 hours.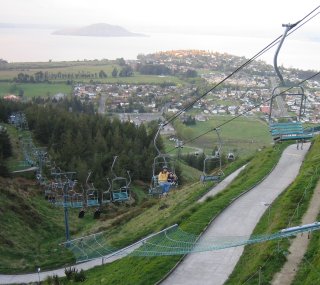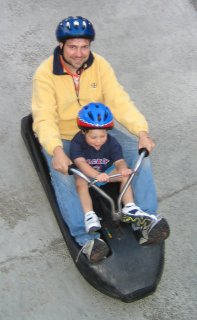 After reaching the hotel and taking a shower we decided that we should go to the Skyline Gondolas and Luge rides. It was about 4:30pm and we were not sure what time the luge ride closed for the night but we thought we'd go and check.
When we arrived we were told that the Luge ride closed at 6pm today which meant we would be able to get two rides in. After looking at the prices for everything we decided to buy a 12 month pass to the sky gondolas for $34 per adult. We figured that this would be the best value for money as were would almost certainly be coming back the two following days and a single ride on the sky gondola is $22 per adult. The 12 month pass also gives a discount on the luge rides which we were pretty sure we would be doing a lot of.
Geoffrey and Cameron managed to squeeze in the two luge rides before the ride closed. They both seemed to really enjoy themselves.
That night we got KFC for tea as Emily, Cameron and myself were very tired and going to a restaurant seemed like too much of a challenge.
30 September 2006
This morning it was very cold but again we were off to the luge ride. We got a great photo of an island near Rotorua with very low clouds around it.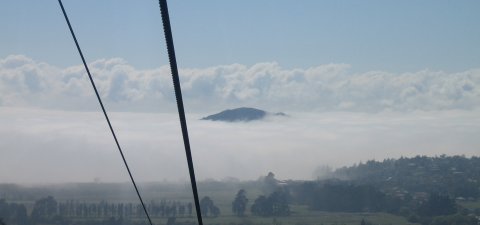 When we arrived we decided to get some breakfast but Cameron didn't want breakfast and very quickly disappeared. It took us a while to find him, but we eventually found him at the head of a very long queue to go for a luge ride, trying to pull off his own luge from the conveyor belt and go for a ride. It was rather a funny thing to see - we should have taken a photo!
Seeing as Emily is too little to go on the luge rides Geoffrey and I both took Cameron on luge rides throughout the day. Geoffrey went four times and I went twice. We actually only purchased five luge rides and got a free one from a family that didn't want to use their last ride.
For tea we tried out the room service, again because everyone was so tired. The food was pretty nice. After tea Cameron was pretty keen to "have some coffee with Grandma". This was because we got Grandma some Mickey Mouse Coffee from Disneyland.
1 October 2006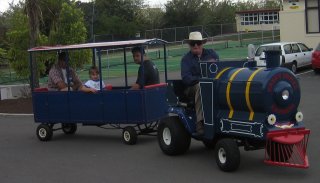 Today after checking out we decided to go to a model railway show that we saw advertised on the side of the road on the first day we were in Rotorua.
When we arrived Cameron noticed the small train which was offering him a ride, so he and Geoffrey had a ride while I had a sausage for brunch. Once Geoffrey and Cameron had completed their ride they also had a sausage - they were very good sausages.
After the sausages we went into the model railway show. Emily became unhappy so I took her back to the car to have a feed while Cameron and Geoffrey continued to look around. Cameron got his first model railway track so we are going to have to spend some time teaching him about "gentle" because it is very delicate (at least, more delicate than the Thomas trains and track he already has).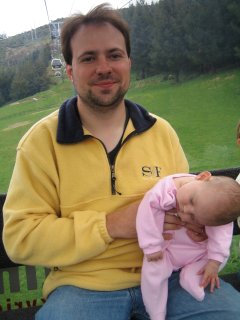 When we had finished at the model railway show we went off again to the sky gondolas and luge ride. Emily was pretty tired and fell asleep on the gondola ride.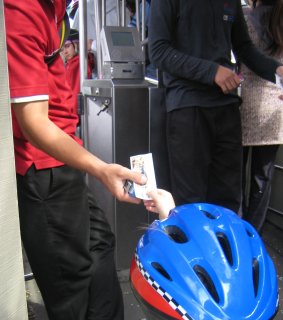 On arrival at the luge ride we lost Cameron again while trying to get Emily settled into the sling. This time we immediately thought to go to the luge ride line but he wasn't there. After a few minutes he found me and told me the man said something to him. Geoffrey asked "What did the man say to you", Cameron replied "He said, Cameron you can't go through!" -- at least this time they noticed him :-)
Again Geoffrey took Cameron for three luge rides and Cameron asked me to take him on his last ride so I did.
At 4pm we decided that it was time to head off to Auckland. This time the trip took us almost 6 hours, as Emily was more unhappy, and it was raining for this trip.

2 October 2006
Geoffrey and Cameron returned the infant car seat in the early morning before our flight and me and Emily took the shuttle bus back to the airport. It was a very wet day, and we all got pretty wet getting the bags from the car to the airport terminal.
The person who assigned us our seats gave us seats A, C and D. I was a bit concerned that there would be someone in seat B, but as it turned out there was no one in seats B, E or F so we got 6 seats to ourselves.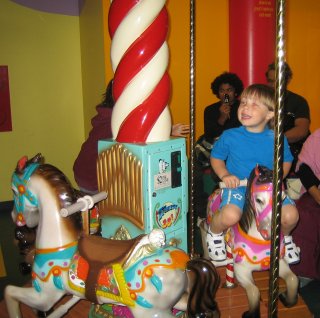 Unfortunately the flight was delayed by 1.5 hours, so we had quite a wait on our hands. Geoffrey and Cameron found an arcade type area where Cameron was kept amused for quite a while.
The plane flight was OK for about the first 2.5 hours but the last three were a challenge as Cameron was quite eager just to be home. He was very excited by the idea of Grandma and Grandpa picking us up at the airport.
When we arrived in Australia we again got the children with young families treatment and jumped right to the head of the queue. The person at immigration was very nice, even though Cameron talked almost constantly he still managed to check everything and respond to Cameron's questions which I thought was really impressive.
It was then on to customs where we saw Han Lee. I wasn't even aware that he worked in customs. We got our declaration checked by another customs official and then we were off to see Grandma and Grandpa.
With our trip coming to an end I was a bit sad, but also happy to be home.