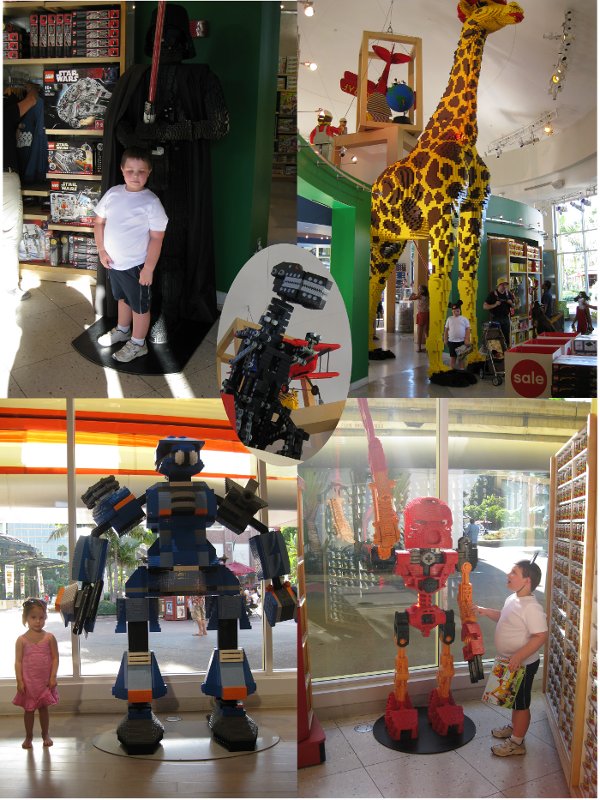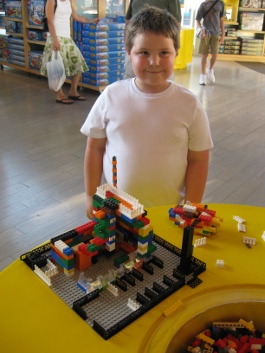 Cameron then found that they have a play area where you can play with Lego to build stuff. He spent just ages playing with everything.
Emily got a bit bored with all the Lego stuff and asked if we could buy a dress, so I took her off to buy a dress. The first store that we looked in was very expensive - $32 for a plain T-shirt for Emily, and they were rather anal about her having to keep her shoes on so we looked elsewhere. We ended up buying a Minnie T-shirt that was a bit too big for her and it looks like a dress so she is happy.
By this time Cameron had finished his creation and wanted me and Emily to come back and take a look at it, so we headed back to the Lego Creator Center. Cameron was very pleased with his house with stairs and an upper-level courtyard and liked showing it off to me and Emily.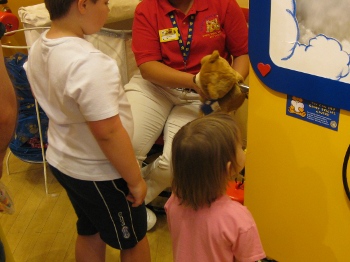 Next we headed off to the Build-A-Bear workshop. That place was very cool. You get to chose a bear that has no stuffing in it, then you get to "help" stuff the bear (by stepping on the pedal that makes the stuffing come out). When the bear is full of stuffing the lady sews it up and you get to look around the shop for an outfit for the bear. They have bucket loads of outfits to choose from - Emily chose a pink bear and a princess outfit with pink shoes and Cameron chose a brown bear and a pirate outfit with sandals. Cameron and Emily even got to create a birth certificate for their bears and got a little house for them to live in. It was very fun.
We looked around Downtown Disney for a place to eat tea but everything seemed rather pricey, so we came back towards the hotel to have dinner at Denny's.
Cameron got a plain cheeseburger and Emily got the chicken, while Geoffrey and I shared a main meal - we have worked out that one between the two of us is plenty.
I took Cameron out to see the fireworks while Geoffrey put Emily to bed.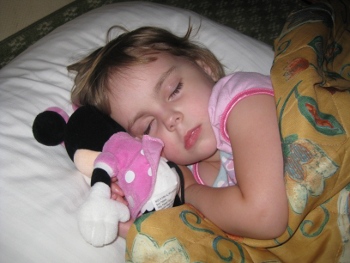 26 Aug 2009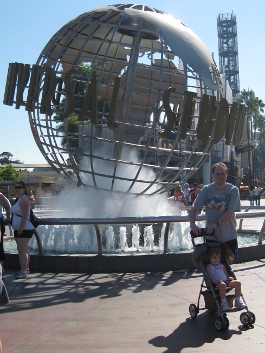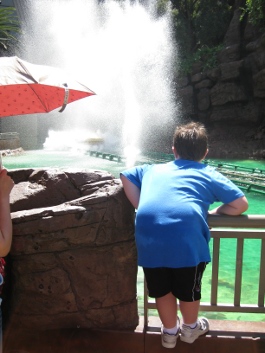 So today it was off to Universal Studios. The bus driver gave a running commentary about stuff on the way there and back, some was pretty interesting. Like he told us the freeway we were travelling on took 20 years to build and while it was being built it was used for many films including Speed.
On the way to Universal Studios the bus driver gave us the tip that the lower level is more quiet in the morning so start down there, which we did. The first ride that we went on was the Jurassic Park Ride. The driver was right, there was no waiting for me and Cameron, we just got straight on. The ride was fun but also very scary (for me and Cameron). We got really wet from the ride so I got two beach towels which came in handy later in the day also.
While Cameron and I were on the ride Geoffrey and Emily were in the rider swap area, so I swapped with Geoffrey so that he and Cameron could go on the ride again. I was really impressed with the rider swap area. It was covered, had seats, televisions and big dinosaurs for Emily to play on.
Cameron asked me to be sure to mention that the Jurassic Park ride had some roaring in it and that there was a dinosaur in a ruined boat and Mickey Ears in the water (I didn't notice this bit!). He was also fascinated with the count down before the big fall and seemed rather undecided if he liked the getting wet part at the end of the ride.
After we had finished on the Jurassic Park ride we went off to get some breakfast - pizza, Chinese and fried rice, and got our first drink for our souvenir cup (it came with 99c refills all day which we really enjoyed).
While we were on the lower lot we looked around at the other attractions. Cameron passed on Backdraft (and we were pretty sure Emily wouldn't like it due to the heat), so we moved on to the Props hall. There they had information about a number of movies including Jaws, Back to the Future, and Curious George - Cameron was most interested in the last one.
That seemed about the extent of the interesting stuff on the lower lot (especially for Cameron who just wanted to go to the Curious George section), so we headed back up the huge escalators to the Simpson's ride.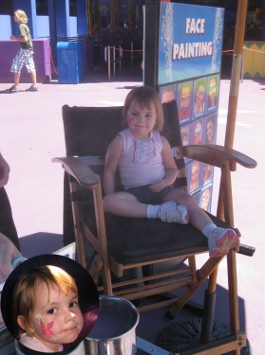 This time I suggested that Geoffrey go first with Cameron on the ride while I waited with Emily in the rider swap area. The wait on this ride was listed as 35 minutes, and after a little while Emily and I got bored of sitting there waiting so we went to get a refill on our drink and try to find something a bit more interesting for Emily to do than sit in the rider swap areas all day.
Not too far away we found a face painter and Emily was keen on getting a fairy painted on her face, so we did that.

When Cameron and Geoffrey got off the Simpsons ride he was very excited about all the things that had happened (including that the Simpsons were with him the whole time, that there was a saw, that there was fire, that there was a big baby that thought "we" were a pacifier). I tried taking him with me on the rider swap pass, we didn't get very far before he decided that he didn't want to go on the ride again - which was a shame. I got the pass back and kept it thinking that he might want to go later (or I would go by myself later).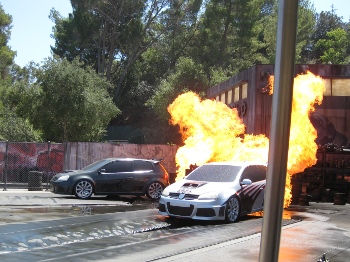 Next we decided to go on the Studio Tram Tour of the back lot. The tour was longer than the last time that we went on it. Some stuff was familar but there was a few new things as well. They still had the "exploding" bridge that puts itself back together, the subway that gets flooded after an earthquake, and the Jaws bit (which Cameron climbed over me and Geoffrey to get away from - he went from right next to it, to 4 seats away in seconds). There was new stuff from the Fast and the Furious (which had water, steam and fire, plus dancing cars), a cave where it seemed like you were turning upside down even though you weren't moving, and a plane crash site from War of the Worlds.
The most exciting thing on the tour was that they were filming on the lot for Desperate Housewives. We went right past the set. Didn't see anyone famous but it was still cool.

After the back lot tour we went back to the Simpsons ride. Cameron was still adamant that he didn't want to go on it so I went by myself. It was great, and I would have gone on it again but we had other things to do.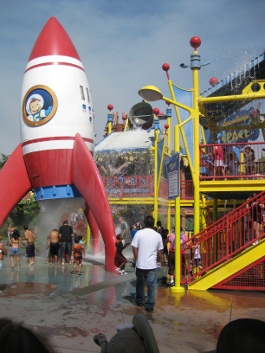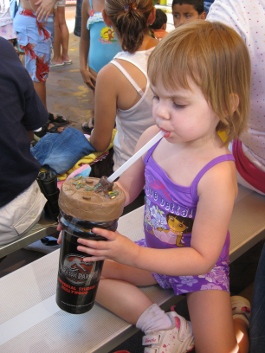 Cameron had been asking to go to the Curious George playground for most of the day and now was the time to do that. Cameron rather enjoyed the playground, the only downer was that they had a strange rule about keeping your shoes on in the water. I tried to find Cameron some suitable shoes in the park but they didn't have his size, so he played in his bathers and sandshoes! He did running, shot water, turned taps, and filled up buckets - he just had so much fun.
Emily didn't want to get wet so she sat in the bleachers with me and Geoffrey and watched Cameron play in the water park. At some point we lost sight of Cameron for a fair while so Geoffrey went in after him. Cameron had discovered the foam ball jungle and he wanted to play in there. However, for that you needed to be dry, so we changed his clothes and left him with his wet shoes to go and play in the jungle.

Emily didn't really like the jungle cause it was too loud and there were lots of balls flying everywhere so we went outside to the Curious George Zoo Playground and left Geoffrey and Cameron in the jungle. In the jungle Cameron and Geoffrey shot balls around with air-powered ball-shooting machines, filled up buckets, tipped out balls and vacuumed the balls up with a machine.
Emily really had a great time playing on the plain ordinary normal playground - just goes to show kids don't necessarily need "fanciness" to have fun. She played happily in there for a long time.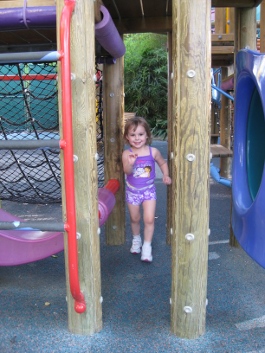 At about 5pm Emily decided that she was hungry - and really it was about time because all she had had to eat until that point was half a vegemite sandwich and three crackers! We all got some food to share and Geoffrey and I tried Cinnabon sticks with frosting for "dessert" - yum! We didn't get to finish them because we had to rush off to see Shrek-4D.
On the way to Shrek Cameron discovered a shark hanging in the park. He was fascinated by it but also a little scared. He wanted to have his photo taken with it but didn't want to get too close (he came back later and managed to get close enough for a good photo).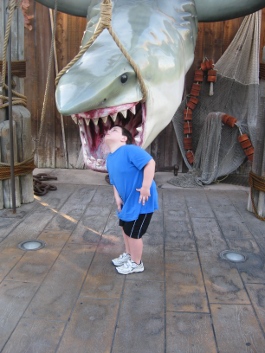 For Shrek we decided that I would take Emily on the stationary seats (cause we thought she would not like the movement and given my back it made most sense for me to do it). The most amusing thing about this is I had ignored a number of warnings about people with back issues, and had no problems but after getting out of the seats at Shrek my back gave me rather a bit of trouble :-). Anyway the movie was pretty good and the 3D stuff was cool.
We made it back to the bus at exactly 6:30pm so we didn't need the phone number the bus driver had given us earlier in the day (1-800-IM-SCREWED).
One thing that I really liked about Uiversal Studios is they have these spray things that spray a very fine mist of water in the outside line up areas to keep people cool. They also have "cool zones" that do the same thing spread throughout the park. They are a great idea for keeping people cool.
When we were planning this trip we considered getting the Front of Line Pass for Universal, but I am glad we didn't in the end cause they definately wouldn't have been worth it. We really didn't have to wait that much for the few things we ended up doing.
For tea we went across the road to Mimi's for tea. Cameron had plain rice (again) and bread. Emily impressed the waitress by ordering her own food from her kids menu. Geoffrey and I shared a Cordon Bleu, which they very nicely served on two plates.
In the evening we went down to the water playground for about 10 minutes before it closed for the night. Cameron again had fun playing on the slide and with the "water poppers", while Emily sat with Geoffrey and I near the spa. We met a nice family from the Gold Coast that had been holidaying in California. They had been to Universal the day before and were rather impressed that Cameron had managed to do Jurassic Park - twice.
We watched the fireworks from the spa, which is a great view if you are ever staying at the Howard Johnson. Then we headed off to bed.
27 Aug 2009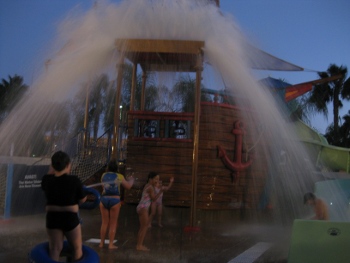 Today was listed in our schedule as a rest day and that is what we did. We went to Mimi's for a late lunch, did the washing and went off to the water playground to relax.
Cameron had a great time playing on the slides, while Emily played in the toddler pool. Later, while we were waiting for the fireworks, Emily entertained some people with her gorgeous voice, accent and talking skills, and Cameron played pretend with some other boys at the playground.
We stayed for the fireworks and then headed back to our room.
While I was at the water playground I ran into the family from the Gold Coast that we met last night, and they are leaving tomorrow but still have some tickets to the San Diego Zoo that they haven't used. They asked if we might like them - which we would. When we got back from the pool they were under the door with a note. How very lovely of them!

28 Aug 2009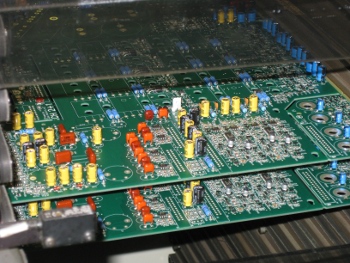 This morning Geoffrey went off to visit Robert, someone that he helped via email with building a self-balancing robot. Geoffrey got a tour of the company that Robert works at and their manufacturing facility, and then went out to lunch with a couple of other people from there.
Me and the kids went to Quiznos Sub for lunch which was not too far from the hotel. Cameron found another thing that he liked to eat - a plain ham and cheese sub on white bread with sesame seeds. I had a beef cheddar sub which was also very nice.
After lunch we headed back to the hotel to the games room to play arcade games. Cameron had a try on the Simpsons game which he enjoyed. Cameron and Emily then wanted a turn on the car racing game. Emily was not tall enough to reach the pedals so I did the pedals while she did the steering and gears. Cameron and Emily really enjoyed the first race so we had a couple more turns on it (until I ran out of change).
We headed back to our room but it was in the process of being cleaned so we looked around the floor. Cameron discovered the ice machine. We looked on every floor of the hotel and Cameron found that every floor has an ice machine - he was rather excited by this discovery.
Once our room had been cleaned we got our ice bucket and loaded it up with ice. This kids ate the ice while we waited for Geoffrey to get back from his visit.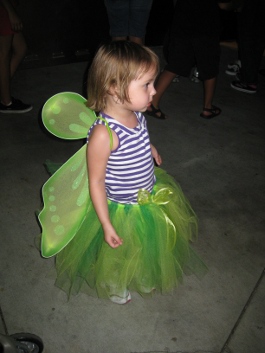 Once Geoffrey got back we headed off to Knott's Berry Farm for the afternoon and evening. When we got there we went straight for the Big Foot Rapids water ride. Cameron had wanted to go on this one when we were looking stuff up last night and we thought we better get the wet rides done before it got too late for the sun to dry us. As it turned out Cameron changed his mind about going on it so Geoffrey and I rode it separately. Cameron probably would have enjoyed it though - it was a very tame ride. Very strangely, it is rated as an "Agressive Thrill Attraction" (two black diamonds, five out of five), the same category in which the really scary fast and upside-down roller coasters go in.
Cameron was really keen on getting a pop gun so we searched for one of those. When we were getting Cameron's gun Emily saw a "tinkerbell" outfit. We were in a rush to get to the Snoopy on Ice show so we told Emily we'd come back and get it later.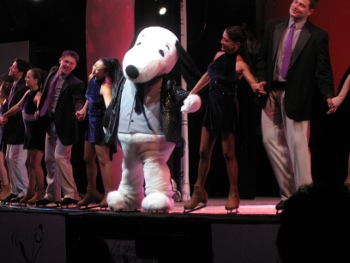 The Snoopy on Ice show was good and Emily seemed to be enjoying it until she noticed the spotlights moving about above the stage, then she seemed rather scared. Once the show was over we started looking for Emily's outfit. We got distracted by a number of rides and getting lost. Eventually Geoffrey took the kids to Camp Snoopy and I went to get the dress (much quicker). Cameron and Emily really liked Lucy's Tug Boat, The Red Baron Planes, and Woodstock's Airmail.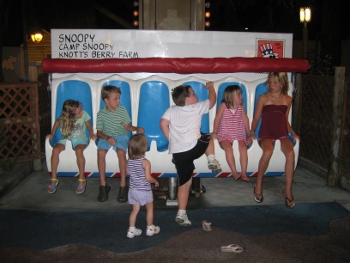 On the way out of the park Cameron decided that he wanted an ICEE. We found a place that sold them but it was a $11 for a cup - and that was the only size they had. Cameron was very upset, so we looked around for another place that had more reasonable prices. We eventually found one for $5.50 (still not value for money but at least we got an ICEE).
For dinner that night we had KFC. Things are a bit different in the US - They only serve wedges, not chips, and the menu has different things, but the food was nice and the kids enjoyed it.

29 Aug 2009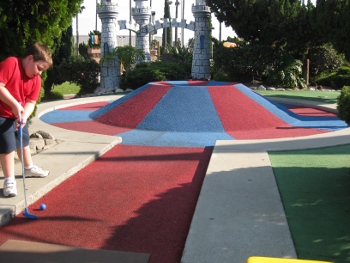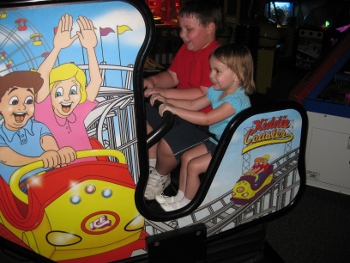 We had an easy morning today. Geoffrey slept in and I tried to but no luck. The kids played in the room and watched DVDs.
For lunch we went to Quiznos Sub again (at Cameron's request). Cameron was not so impressed this time around though.
Once we got back to the hotel room Geoffrey organised tickets to Camelot Golfland, then we headed off there.
We played a round of mini-golf on Course 5: King's Course (which was the easiest). Cameron had a great time.
After we finished the game of golf we went inside to the arcade games. It is very much like the Beachouse in Adelaide in set up. Cameron had a great time playing games that gave out tickets (that we later swapped for little toys).
Emily found a rollercoaster simulator designed for little people that she and Cameron rode on and really enjoyed (they had a couple of turns on it).
Then they found the normal arcade games like car racing games and Pac-Man. Cameron and Emily both liked the car racing games, and had a few turns on those. Cameron also discovered pinball. The first one we tried was a bit broken - one of the flippers didn't move very well. The second one (a pirate one) was more fun and the guy next to us gave Cameron a free game on the Simpson's one that he had won by getting a high score.
We had tea, pizza and fries, at Camelot. Afterwards, we went off to play games again for a few hours more.
Overall we scored about 650 tickets and got a bunch of stuff: 2 snakes, 2 bracelets, 1 ring, 1 compass, 1 rubiks cube, 1 slinky, 2 bendy pencils, and 1 spinning top.
At about 9:20pm we decided to head home. On the way home we saw the fireworks at Disneyland again and wondered how many car accidents happen due to drivers being distracted by the fireworks each night.
In the evening we packed up all of our stuff ready for moving to our new hotel tomorrow.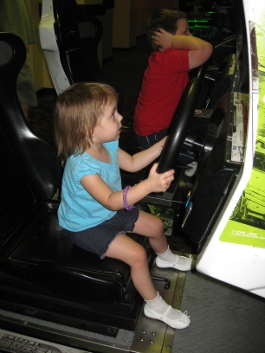 30 Aug 2009
Today we checked out of the Howard Johnson, and drove down to Carlsbad (near Legoland). The drive was pretty quick - about 1 hour.
When we arrived at our hotel there wasn't a room ready for us (we were a couple of hours early for check in time), so we dropped off our bags and went to the Zoo to use our free tickets. We used the GPS to get to the Zoo and mostly did OK - just a couple of wrong turns cause I couldn't work out how to zoom the view in so I could see individual streets. Anyway the GPS just recalculated the route and we got there without much hassle.
Since our friends from the Gold Coast had given us 6 free tickets to the Zoo, and we only needed 4 we found a couple near the ticket window to give the last 2 to. They were very thankful.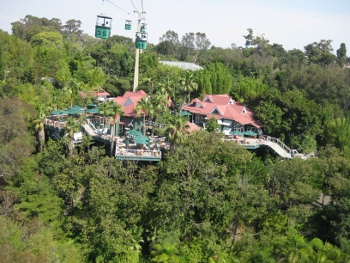 We entered the park and headed straight for food since it was lunch time and we had skipped breakfast. There seemed to be some concern with the sandwich-maker about doing a ham and cheese sandwich for Cameron and Emily but after some consultation they said they could do it. Unfortunately they put tomato and lettuce on the first one - apparently it was a bit difficult! As it turned out Cameron and Emily didn't like the sandwiches and ate very little of them. They much preferred the chocolate chip cookies that we got.
After we finished food I went off to get a Zoo baseball cap for my collection. They had a few to choose from, and I selected a Panda one. Cameron and Emily joined me in the shop and they each got a stuffed animal - a giraffe for Cameron and a panda for Emily. I did have to talk them out of the huge ones that were bigger than our suit cases (and I'm sure rather more pricey than my wallet could handle).
The first things that we did after lunch, hats and toys was go for a ride on the Skyfari (a ride that goes over the Zoo). Cameron and Emily really liked that and were keen to do the return trip down to the bottom level of the Zoo.
Cameron then opted to go and look at the reptile house - which he had seen earlier when we were looking for toilets. There were plenty of snakes to look at, so Geoffrey and Cameron went off to do that. Emily played a running game for a while and then said she was thirsty, so we went in search of a drink.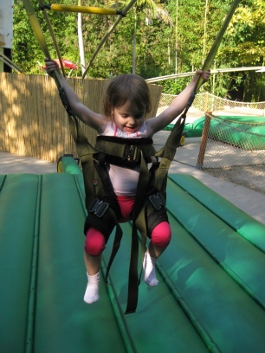 Emily requested a souvenir cup with a Panda on it (panda seemed to be her favourite thing during the day). We found a place that sold the panda cups so we got one and I got a frozen lemonade (which Emily quickly commandeered).
Next on our list of things to do was taking a bus tour. The bus that takes people on the tour was a double decker bus with the top level uncovered. Cameron was very keen to go on the top level but given it was a very warm sunny day we opted to go on the bottom level (and told him he could ride on the top later).
The tour on the bus lasted about 30 minutes or so. On the tour the bus topped at various enclosures so that we could try to see some animals. Some we saw and some we didn't. One thing that we did see on the tour was the Jumpin' Joey "ride". It is where you get strapped in and bounce up and down on some inflated air mattresses. Cameron and Emily were very keen to have a go on that.
After we had finished the bus tour Cameron and Emily were still very eager to get to the Jumpin' Joeys and took off at a cracking pace - and in the right direction which was great :-). Once we caught up with them we stopped off to get our cup refilled (FREE Refills all day - can't beat that!).
I paid for both Cameron and Emily to have a turn on the bouncy thing but unfortunately Emily got put off by how hot the mat was when she tried to climb on, so we got a refund for her. Me and Emily went over to watch Cameron having his turn, and after a while Emily decided that she would like to have a try as well. I asked the attendant if we could try one in the shade this time (which he was happy to do for us - and he switched the harnesses around). Both Cameron and Emily really enjoyed the jumping. I liked that they got to stay on for as long as they wanted - it's good value for money when there is noone else in the line.
Cameron eventually decided that he had had enough of the jumping and got off. Emily was still having a great time, and Cameron asked to have a go on the rock-climbing wall. So we paid for that one and Cameron got all suited up.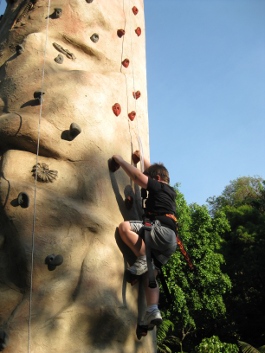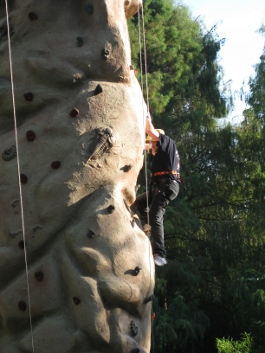 Cameron got about halfway up (with a little help over the tricky part) and tried again. Cameron thought that Geoffrey should have a go, and so he did. Geoffrey got all the way to the top! Since he only had one turn there was no charge and we'd already paid for 3 other things there).
Now it was time to find our way back up the park, we decided to walk down more to the bottom of the escalators, then we rode the escalators most of the way back up to the top. The escalators were pretty large and were a great way to avoid having to walk up-hill.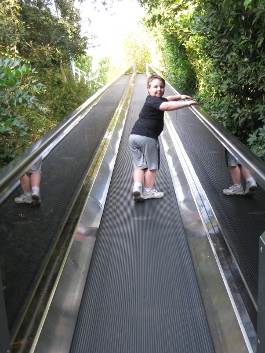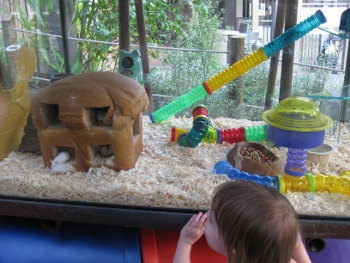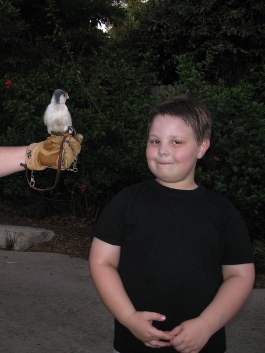 Once we got back to the top we looked for the Children's Zoo because I had seen an advert for some Dr Seuss stuff in the children's Zoo. On the way to the Zoo we got distracted by the playground that was just near the entrance. The kids played for a bit while Geoffrey and I shared a frozen Lemonade (just love those - especially on warm days).
After a bit we moved on to the children's zoo and came across a mouse "cage". Inside the cage were lots of mice and a little house made out of real bread for them to play in and eat. Cameron and Emily really liked this and we came back to look at it a few times.
We heard an announcement that the petting paddock would be closing in 5 minutes so we rushed over to have a quick look at what the kids could touch. There was only one animal left on display - a miniature horse. Cameron and Emily both had a pat. Emily wasn't even scared at all she just walked right up to it!
Next I found the Dr Seuss exhibit. It was a number of brass statues that had been placed around the gardens. They have Cat in the Hat (of course), Green Eggs and Ham, the Lorax and a few more. Cameron and Emily were not really excited by those but Geoffrey and I liked them.
We then followed the path through the children's zoo but there was not really much to see at 7pm. Right at the exit to the children's zoo we ran into a keeper that had a bantam falcon with her. Both Cameron and Emily had their photo taken with it - although neither of them seemed sure about it.
Earlier in the day we had promised Cameron a ride on the top part of the bus, so we found an express bus stop and hopped on. The ride was very nice (not at all sunny - given it was 7:45pm). By the time we got back from our ride it was almost closing time so we headed back to our car and to find something to eat, and check into our hotel.

31 Aug 2009
This morning we had our free hotel breakfast. My favourite was the make your own waffles. Cameron liked those as well. He also tried a bagel which he wasn't so keen on. I booked the hotel cause I thought it was walking distance from Legoland, but it wasn't, so we drove to Legoland after breakfast.. They had the most AMAZING things built of Lego. They had:
| | | |
| --- | --- | --- |
| | | |
| People walking into Legoland | Cameron fighting Darth Vader | Car license plate |
| | | |
| Thomas the Tank Engine | New York skyline | Sydney Opera House |
| | | | |
| --- | --- | --- | --- |
| | | | |
| Family with a pram | Bob the Builder | Emily with the captain | Cameron in a shark |
After admiring a number of Lego creations and getting sun-screened up, we decided to take a boat ride together. This was a little tour on a boat that went past a number of Lego attractions and where Cameron noticed the "Candy Car Cars" which was actually the Sky ride. It is a bike on a rail that you pedal around up high.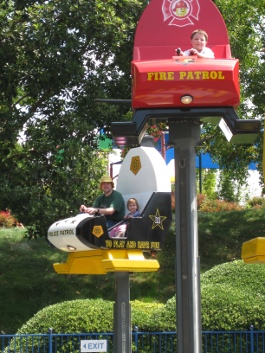 Cameron and Emily were keen to ride the "Candy Cane Cars" so we headed towards them. On the way we got rather distracted by the amazing things in miniland USA it had a wonderful array of sculptures of the USA (just too much to list) but it was very cool.
After finishing being side tracked we kept moving to the "Candy Cane Cars". That ride had a long wait but Cameron was very keen to ride it so we waited. It was a fairly short ride but Cameron had fun pedaling around (I let him do most of the work ;-).
Emily's first choice of ride was the Sky Patrol Helicopters. We had seen those on the way in so I took her back to those while Cameron and Geoffrey rode on the Sky Lift (Emily was too small for that one). As it turned out Cameron and Geoffrey arrived at the helicopters before Emily got to ride so they all went on at the same time.
After the helicopters Emily decided that she wanted to drive the little Volvo cars. Emily has finally gotten the hang of theme parks - you don't just follow your brother around you ask to go on rides you want to do :-). Cameron didn't want to ride on the little cars (which is lucky cause they were very small), he wanted to see the fire department show. So I took Emily to the cars and Geoffrey took Cameron to the show.
Cameron really enjoyed the show (he was very excited to tell me that you put the wet stuff, on the hot stuff). Emily had fun on the cars although she really didn't ride it in the usual way...

| | | | |
| --- | --- | --- | --- |
| Emily ready to drive | Emily sitting still while everyone else moves | The attendant explaining to Emily how it works | The attendant giving up and just pushing Emily. |
| | | | |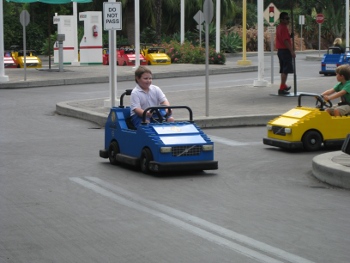 I found out during the wait for Emily's ride that they have bigger cars for the older kids to drive not too far away, so we got some food and then took Cameron to try that one out. He loved it! In fact he enjoyed it so much that he needed to have a second ride (which has been an unusual occurrence during this trip).
Next Cameron spotted the fire trucks that you can ride on. It is actually a race where you have to pump a handle on the truck to get it to move to the "fire", then you put the "fire" out and race back to the start. That was heaps of fun and my favourite ride of the day (even if we didn't win).
One of the other really cool things that they have at Legoland is the ability to buy Lego by the pound. They have bucket-loads of different varieties of Lego and you can grab a bit of this and a bit of that. Cameron decided that he wanted to buy some so I followed him around to make sure it didn't get too expensive. As it turned out I needn't have been so restrictive with how much of everything that he could have because by the time he had picked all the styles that he wanted he had only spent $2.88. Legoland had some other really cool things like ice cube trays in the shape of Lego brick, and a Lego man cake.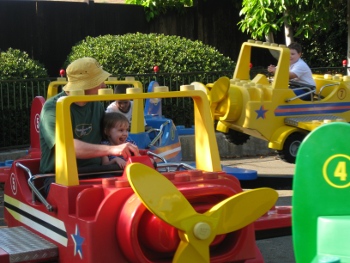 Next Emily wanted to go on the plane ride so off we all went. Cameron had one ride and enjoyed that, but Emily was not satisfied with one - she had 3 in a row. Cameron was a bit bored with watching her and headed off to find something else to do. He found some Lego boats that you get to drive around on the water. He and I both went on the ride but in separate boats. He went first and I followed. It was just as well because he got a bit stuck part way around and ended up facing the wrong way (and there's no reverse!). I just bumped into the nose of his boat with mine to spin him back around. Once we had done it together Cameron decided that he wanted a turn by himself so I gave up my boat and he went off again.
At this time I found Geoffrey and Emily riding on the Pirate ship ride - rather a fast paced ride for Emily I thought, but apparently she has gotten over her fear of rides :-). She just loved it. Her smile was so big and sweet. When Geoffrey and Emily were done on the pirate boat they joined Cameron for another turn on the boats. Then it was Cameron's turn to try out the pirate boat. Cameron, Emily and Geoffrey rode that one three times in a row together.
We had time for one final ride before the park closed and the log ride was the winner - it is rather like Splash Mountain at Disneyland but on a smaller scale. Cameron got a bit wet but he didn't seem to mind.
Tonight for dinner we choose the Outback Steakhouse, but we couldn't find that so we went to Applebee's instead. The steak there was very good, and Cameron enjoyed his burger. Both Cameron and Emily were overtired and found it difficult to sit still so it was a rather quick dinner.
1 Sep 2009
Today we drove from Carlsbad to San Luis Obispo. We left at about 12:30pm and drove to Anaheim to collect a package that had arrived at the Howard Johnson. I grabbed that and then we went to Mimi's for lunch. It was a very pleasant lunch. Cameron and Emily sat at the table the entire meal and there was no fighting, or screaming.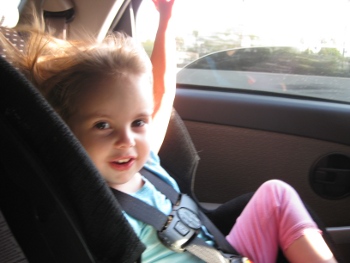 The drive seemed rather long with Cameron and Emily not having a good time, so we stopped off, got some snacks and swapped seats and things went a bit better from then on (although there were still moments of unhappiness). The kids seemed happiest while the windows were down and they were being blown around. Emily particularly liked the wind.
We eventually arrived in San Luis Obispo at about 8pm and checked into the hotel. After depositing our bags we headed out to have tea at the Madonna Inn. The decor there was very interesting and pink so Emily liked it. Apparently the Men's bathrooms were interesting but not so much the ladies. One thing of interest in the ladies was that there was a "little girls" toilet (an Emily sized toilet). When Emily saw that she announced that she wanted to do a wee, so I help her on and she did (although she did start a little bit early). There was also an automatic soap dispenser and tap at Emily's height so she really liked that.
We are all very excited about seeing the Lerdorf's tomorrow. Emily keeps asking when we will be at Carl Lerdorf's house, and she had a little cry today because we were stopping overnight and not arriving until tomorrow. I am surprised she is so looking forward to it because I doubt that she remembers any of the Lerdorf's. But I guess the excitement could come from having more people to tell that she is three (she told me that is what she is going to tell Carl when we get there :-).
2 Sep 2009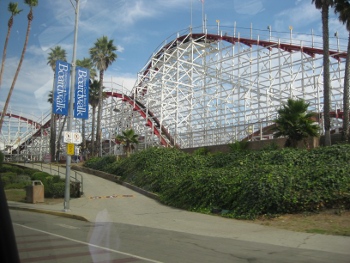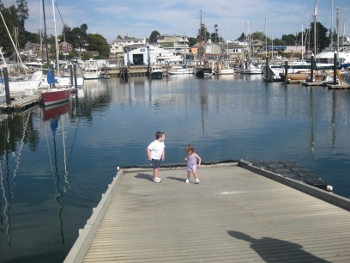 More driving again today from San Luis Obispo to Sunnyvale.
On the way we stopped off at a food store to get more snacks and Cameron wanted to buy rice and fish (although we did talk him out of the fish cause it was still 3 hours of driving left). We also got some sparkly jewelery for Emily, and Dora Spaghetti.
We kept driving with our food for distraction, until we came to Santa Cruz. At Santa Cruz we drove around a bit. We drove past the boardwalk (which was one of the locations for "The Lost Boys" filming - my sisters will remember this one), and then down to the marina where all the yachts are docked.
Cameron enjoyed looking at the yachts and was kind of fascinated by walking on a floating boat ramp.
After a bit of a walk at the yacht club we started off again on our way to the Lerdorf's. We finally arrived at our destination at about 5:30pm. Cameron was very excited to see Carl and vice versa.
Christine cooked us a lovely pasta for tea (plain for Cameron and Emily and Spaghetti Bolognese for me and Geoffrey). We ate in the backyard which was so nice and peaceful.
We took the kids "to bed" about 8:30pm, but they resisted sleep for many hours, instead they watched movies and played games.

3 Sep 2009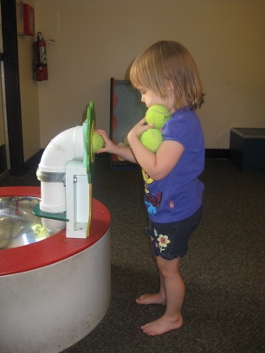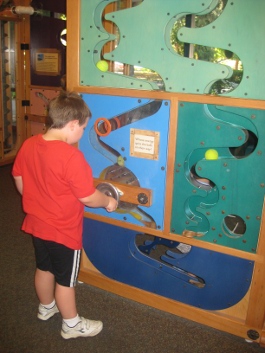 Today we went off to the Ames NASA Visitor Center at Mophett Field. It was rather small but there was some interesting stuff there. Cameron and Emily watched some short movies there - Cameron was able to tell me stuff about black holes. While the kids were watching movies I got to look and read about every display - I don't usually get close to doing that.
When Emily got bored of the visitor centre I took her over to the gift shop. They had some interesting stuff including astronaut food. I thought about getting some but figured the kids wouldn't eat it so skipped it.
After we had finished at the visitor centre we drove to the San Francisco Children's Museum, which had some interactive displays set up plus a small zoo out the back. Cameron and Emily had a great time playing with the interactive exhibits.
After the kids had finished at the museum we went to JC Penny - I wanted to look for some glasses. I had a look at some frames, none really grabbed me but I asked about how long to get them - 1-2 weeks, which is too long. I tried a couple of other stores but had the same problem.
One of the places that I went to look for glasses was Sears. While I was there I looked at the kids clothes section, because Emily wanted a green T-Shirt to go with her tinkerbell outfit. I found one that I thought was good and I also found the most gorgeous dance outfit which turned out to be half price - bargain!
While I was looking for glasses, Geoffrey, Cameron and Emily found a place where you can do RC Car racing, so Cameron had a go at that. They got a Pretzel and rode the escalators to keep busy.
When we got home Christine had made a lovely dinner of Chicken with orange sauce and rice. Cameron and Emily had just rice, while Geoffrey and I enjoyed the lot.

4 Sep 2009
We drove into San Francisco to the Exploratorium. I had originally told Geoffrey that I didn't want to go to the Exploratorium first cause we'd end up spending the whole day there, but the parking was free so we decided to go there first. And as predicted we stayed there the whole day until it closed at 5pm.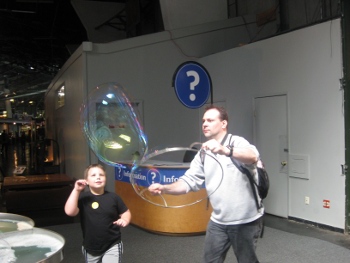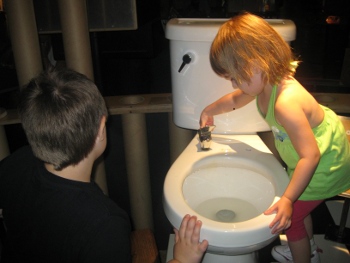 It was a very interesting place, lots of stuff to play with. It is so refreshing to go to a place where we get to encourage the kids to play with things rather than restrict them.
Emily's favourite place to play was at the bubble making station where you could make huge bubbles. She had a wonderful time. I couldn't make a bubble come off the frame; Geoffrey got close but it popped at the last moment.
Cameron liked the smoke signal made with dry ice and the whirly, whirly also made with dry ice.
Cameron and Emily also had a drink out of the toilet which was rather an amusing set up.

After we finished at the exploratorium (actually after we were kicked out because it had closed) we were going to head into the city to meet Christine and Carl at Ghiradelli. Initially we were going to catch a taxi but Cameron was very distressed by that idea so we decided to drive.
We had not yet heard from Christine so we drove down Lombard Street. The particular section of Lombard Street we drove is the "twistiest road in the world". It WAS very twisty and very steep. Cameron loved how steep the road was.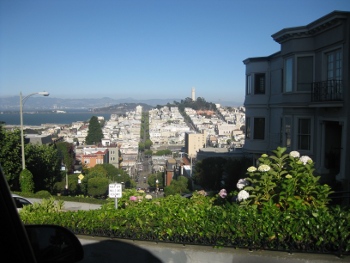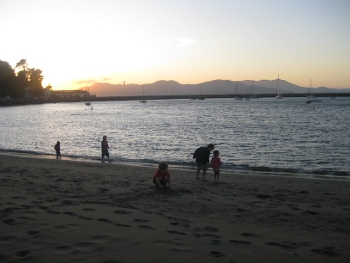 We then headed into Ghiradelli Square to find a place to park. We found a place really easily but then discovered it was just a 30 minute park, and we needed a 1 hour park. Geoffrey and Cameron went to find another park while Emily and I waited at Ghiradelli. As it turned out the park was only a small way down the road.
When Christine and Carl arrived we got an icecream for each of the kids and Geoffrey and I shared a thickshake and a banana split. They were really nice. After Cameron had finished his food he went for a walk through the chocolate shop and we both got a free sample of the peanut butter chocolate. Cameron ate both and really enjoyed them.
After his chocolates Cameron headed off again with Geoffrey in tow. They went down to the beach to have a look around. After the rest of us had finished our dessert we met up with Cameron and Geoffrey and went to the beach as well.
Cameron, Emily and Carl had a good time playing on the beach, and Cameron and Emily even went for a paddle in the water. It seemed like it would be freezing but they were happy with it.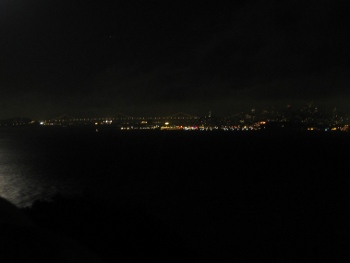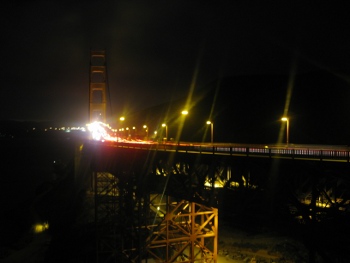 After the kids got out of the water we went back to the car to take a drive across the Golden Gate Bridge. It was cool to drive across the bridge. On the other side of the bridge we stopped to take some photos of the Golden Gate Bridge and the Bay Bridge.
While we were at "Vista Point" we saw some racoons searching through the trash. They actually let me get pretty close to them. I guess they are used to people.
After we got home we watched an episode of Lie to Me, which I haven't seen in ages, while I did the washing.

5 Sep 2009
Today was character breakfast day, so everyone was up early and off to Great America. The first character that we met on the way in was Spongebob Square pants - Emily was out of the pram in a flash to give him a hug. With Spongebob was Patrick the starfish. We had a family photo with them.
The breakfast itself was rather average - the juice and eggs were good, but meeting the characters and getting photos with them was great (exciting for me as well).

| | |
| --- | --- |
| Emily giving Spongebob a hug | Picture of all of us with Spongebob and Patrick |
| | |
| Cameron with Jimmy Neutron | Emily with Dora and Diego |
| | |
| | | | |
| --- | --- | --- | --- |
| Diego giving Emily a tickle | Cameron and Emily with "The Last Avatar" | Cameron hugging Blue | Cameron and Emily with Blue |
| | | | |
| Cameron and Emily with Angelica | Angelica giving Emily a tickle | Cameron giving Angelica a hug | Cameron and Emily with Chuckie |
| | | | |
When we went into the park we went to get Cameron and Emily measured so that we knew which rides they could go on, Cameron was over 48" so he could go on most rides. Emily was under 36" so couldn't have any wrist band, and couldn't ride much.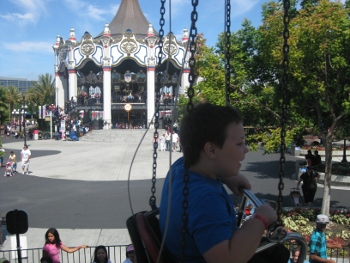 After Cameron and Emily went on the carousel, Cameron wanted to go on the celebration swing ride. He got on but they had some technical difficulties and he had to get off before he could actually ride it. He actually was okay with that.
While Cameron and Geoffrey were waiting for the swing ride, Emily decided that she wanted to go on the star sky ride. So when Geoffrey and Cameron got off the swings we went to ride that. It was a very nice view of the park and surrounds from up so high.
When we got off the star ride the swings were working again so Cameron wanted to go back there. I tried getting Emily measured again (cause at Knott's she was tall enough to ride rides so we thought the first place may be wrong). She was still too short. I tried out folded maps in the bottom of her shoes but she refused to put the shoes on with the maps in them.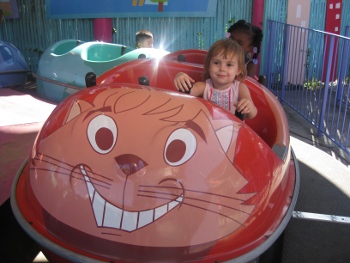 It was about this time we decided that splitting up (one child each) was best so that I could take Emily to Kidsville where she could ride most rides. Geoffrey took Cameron off to ride on a water ride.
On the way to Kidsville Emily and I saw a shop advertising "everything $1", so we went into it to see what they had. I have to say that I was thinking that the $1 was too good to be true, but it really was "everything $1". Emily got a hat, crown and bubble blower.
Emily rode on lots of rides in Kidsville, she even managed to get on a ride she was too short for. When the attendant opened the gate she just walked in nice and confidently to a seat and waited to be helped in. She got two rides on that one (when she went back later to the same ride she wasn't allowed on).
There was another ride Emily wanted to go on where she needed to be supervised but I couldn't go on it, so she went on with a teenager to supervise her. That was a very nice thing for the teenage girl to do.
We meet up with Geoffrey at the Dora the Explorer Stage show. The stage show was rather fun, lots of singing and dancing on the way to have a dance party with the big red chicken. The kids learnt the chicken dance along the way.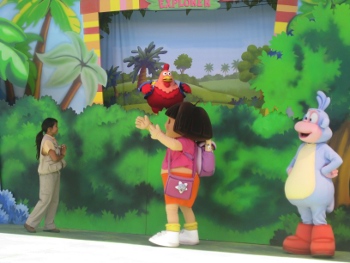 After the Dora stage show we went to Reptar roller coaster. Cameron was keen on riding it until he got to the front of the line when he decided that just Geoffrey should go on while he watched.
On the way out we passed the Celebration Swings and Cameron wanted "just one more ride" while I went off to get my hat. The one more ride turned into 4 rides :-). He was having a wonderful time.
When we were near the gate we noticed an advert for admission to Gilroy Gardens. If you bought them from Guest Services they were $19.99 which we thought was cheaper than the online pricing. Then Geoffrey noticed another booth inside the park which was selling the same tickets for only $10 each! Since we were planning on going to Gilroy Gardens we were excited to get such a good price (I checked later and found the online price was $29.99).
When we got home Carl and Rasmus were playing the Wii. After a bit Cameron played with the Wii - the first time he has played a Wii I think. After Carl went to bed Emily and Cameron watched Mickey Mouse Club House. Emily fell asleep in the beanbag.

6 Sep 2009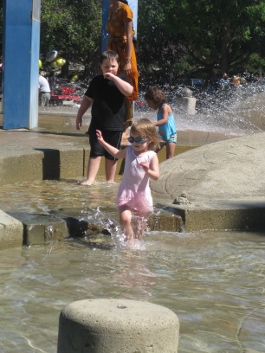 Geoffrey went out to visit a fellow hypnotist this morning, while I slept in, with the kids. Emily had a rough night last night, she seemed to have a high temperature.
When we got up Emily wasn't much better, so Christine organised some Tylenol for her. Emily took the first dose but didn't really like it, but she perked up really quickly after taking it.
Geoffrey got home around lunch time and we all (including the Lerdorf's) headed out to a Sandwich shop ("Lee's") to grab a sanwich each to take to a local park for a picnic.
When we arrived at the park we discovered that it was a water playground, and the water was turned on (which is not usual apparently). Cameron was off in a flash to the water, getting wet in his clothes. Emily sat with us for a while before wanting to go off to the playground. She eventually decided to try the water out. She seemed to enjoy it, along with Cameron.
After Cameron had finsihed playing in the water he and Carl went across to the "island" in the park to play in the sand with a couple of other girls. Emily eventually joined them and they had fun digging with the spades that the girls loaned them.
After the kids had finished playing we headed back to the Lerdorf's, Cameron wanted to scoot home on Carl's scooter, so Christine went with him on her bike while we followed behind. Emily fell asleep on the way home and when we got home Geoffrey successfully transferred her to bed where she slept for quite a few hours.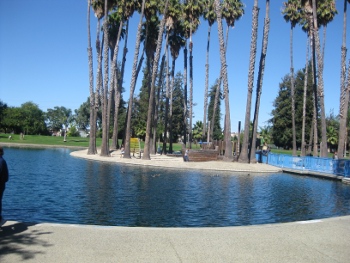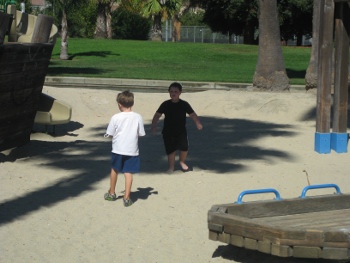 Cameron and Carl played outside with a few of the neighbourhood kids for a while until Carl's friend, Remy, arrived. Cameron, Carl and Remy played happily for a bit and then Cameron got upset (about something don't exactly know what), and he decided that he didn't want to play with Remy anymore. There was a girl from the street, Rochelle, there as well and she tried to help Cameron feel better by offering to play Lego with him. Which he said he would like to do but on the way to the Lego we saw Remy and Cameron got upset again. At this point Rochelle offerred to get her brother (who can "beat up a high-schooler") to come and beat up Remy for making Cameron sad. I told her I didn't think we needed to have anyone beat up Remy and that we would just make sure that Cameron was safe.
For tea we had salmon and macoroni cheese with apples from the Lerdorf's backyard. It was all pretty good (even the salmon!).
After tea Geoffrey went with Christine, Remy and Carl to Krispy Kreme, to see doughnuts being made, and to eat some hot glazed ones (yummy!). I stayed home with Cameron and Emily (since Emily was still asleep and Cameron didn't want to go along). Geoffrey brought us back some to try, they were pretty good.

7 Sep 2009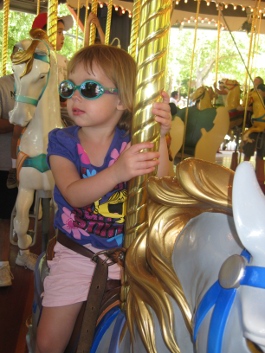 Today was our last day seeing the Lerdorf's. We have had a great time staying with them and were sad to leave. Unfortunately Emily still had a temperature, so Geoffrey and I helped her take some Tylenol (which she really doesn't like). She managed to eat a yoghurt this morning as well which was good to see.
Cameron was keen to scoot to Gilroy Gardens (which is about 34 miles - so not possible). He was scooting up and down the street, and having a great time until a dog came out from the neighbours yard. He got a bit scared and jumped into the car pretty quickly.
Around lunchtime we set off to Gilroy Gardens following Christine, Remy and Carl. When we got to Gilroy the kids all went on the Carousel while I went off to buy my hat. After the carousel ride Cameron decided that he was hungry so we went off to get some lunch while Carl, Christine and Remy kept riding rides.
The place we went to get lunch "smelt funny" according to Cameron - which I think may be a coffee smell that he doesn't like, so I went in and got some stuff while everyone else waited outside. We ate out on the verandah where a bee got interested in our drink and Cameron was really unhappy with that, so he wandered off (one of many times for the day so we wrote our cell phone number on his arm).
After lunch we went on a train ride around the park and spotted a car ride and an "onion" ride (which turned out to be a garlic ride). Cameron was keen to go on the car ride but Emily wanted to go on the strawberry ride (which was near the train station) so we did that first.
After the strawberry ride we set off in search of the car ride. On the way we passed the Garlic Twirl ride and Cameron and I rode that while Geoffrey and Emily rode the Artichoke Dip ride. Cameron really liked the Garlic Twirl even thought it was pretty fast, he described the motion to Geoffrey ("spin, spin, spin, sideways, sideways, spin, spin, spin"). I asked Emily if she liked her ride and she said yes then explained the motion to me ("up then down").
| | | |
| --- | --- | --- |
| Strawberry ride | Garlic Twist | Artichoke Dip |
| | | |
Again we set off looking for the car ride. There was a slight distraction when we passed the playground but Cameron was quick to get back on task. We eventually arrived at the car ride and waited in line for 45 minutes - that is the longest wait we have had since we have been here (I think). When we got in the car Cameron decided to drive (which just meant steering a bit). The drive was kind of nice and we got to go through a car wash with working water (well a slight spray of water). The most interesting part for Cameron was when we went through a tunnel and there was a police siren behind us - he talked about that lots afterwards.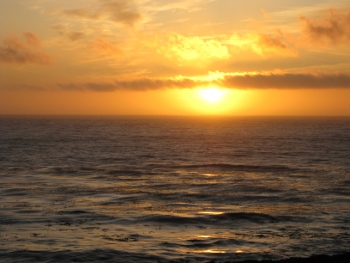 Once we were done with our ride we headed off to get an ICEE and then called Geoffrey to see where he and Emily were. They had managed to find Christine and Co. again so we went to find them all (cause it was about time to start our long drive for the day). We said goodbye to Christine and Carl and then made our way slowly to the car.
For dinner we got Subway (something fast but not fast food - I am getting a bit sick of fast food), and while we were stopped Cameron and I went to a dollar shop to see what we could find for in the way of bubble blowers (Cameron had wanted a bubble blower at Gilroy Gardens but we couldn't easily get one).
We took the scenic route and it was very pretty, great views of the sea and a nice sunset. The drive was actually rather easy with the kids cause Emily slept most of the way, and Cameron chatted rather a lot without interruptions. I got to sit in the front for about 30 minutes of the drive, before Cameron started complaining about having a sore tummy and not feeling well so we swapped back.
We arrived at the hotel about 10:30pm, unloaded and relaxed before bed.

8 Sep 2009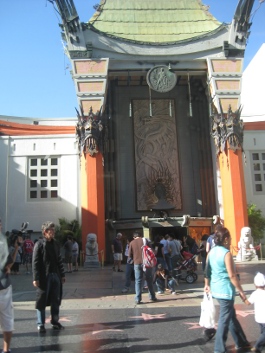 This morning Emily was still rather warm and it seemed like Tylenol was going to be needed again. I took her to the nearby petrol station to get OJ that she could drink right after to get rid of the yucky taste, and we also got Cameron some pretzels for the road (he had asked for them a couple of times yesterday).
After giving Emily her medicine we loaded up the car and headed off. Since it was about lunch time we only drove a short way before stopping for lunch in Los Olivos. Geoffrey and I had a croissant and the kids had icecream (that's all they wanted).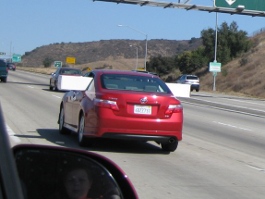 When we got to Hollywood we took a detour to drive down Sunset Boulevard. We wanted to look at Grauman's Chinese Theatre so we looked that up in the GPS and discovered that it was actually on Hollywood Boulevard so we went there. There were bucketloads of people looking at the stars and one that had flowers near it (which I assume is Michael Jackson's star).
After seeing the stars we continued on our journey. While driving we saw a car that was transporting a box that was a little too big to fit in. They had it hanging out both windows, and it looked kind of amusing.
The traffic was really heavy around LA and Cameron needed to go to the toilet so we got off the Interstate and found a park where Cameron went to the toilet and played for a while. Then we went off to Denny's for dinner.
We arrived at the hotel at about 8:30pm, organised the room, and got a fridge and microwave for our room.
Geoffrey took Cameron and Emily to the pool, but Emily was not keen to stay down there. I brought her back to the room and played with her. Cameron meet some other people from the conference at the pool - Cooper, Alli and Andy.

9 Sep 2009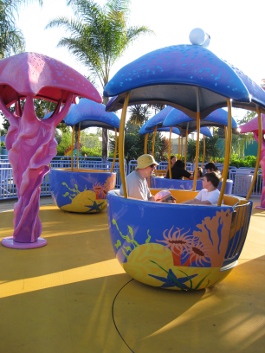 Today Alli and Andy came by to visit. Cameron played in the hall with them and at the elevator. They only had 10 minutes so after that time they went back to their room while we got ready to go to SeaWorld.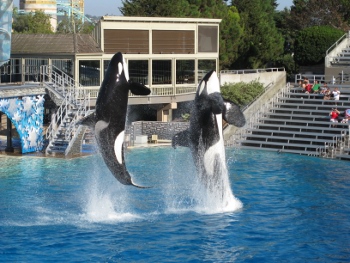 We arrived at SeaWorld at about 1:30pm and looked for food, but we wanted to catch the Sesame Street show so grabbed a cookie and drink then went to line up. Cameron didn't want to sit in the seats because it was a 4D show - which means you get wet. Emily also didn't want to get wet so we covered the holes that shoot water.
Cameron was keen to feed the dolphins but they were not doing feedings today, so we just looked at the dolphins for a while.
Then it was time to head over to see the Believe show with the Killer whales. The whale show was very cool. Cameron wanted to sit in the "Soak Zone" so I did that with him. That was a big mistake - it is called the "Soak Zone" for a reason - we got absolutely SOAKED! The first time Cameron liked it but the second time he got wet he scrambled up the stadium seats pretty quickly. The water was cold as anything. Perhaps next time I'll avoid the soak seats.
We had a ride on the sky tower then went over to the Sesame Street Bay of Fun. In 15 minutes Geoffrey took Cameron and Emily on 3 rides. They liked it. Emily was very sad that the park was closing so we told her that we would come back another time (we had 2 day tickets).
We went to do some shopping in the evening and then Geoffrey went off to do the washing with Cameron.

10 Sep 2009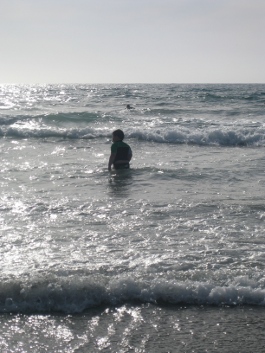 Geoffrey woke up excited today and ready for the conference to start. Registration opened at 12pm so we went down to the lobby about that time. Cameron had taken off ahead of us and we found him in the pool, so our registration was delayed a bit.
Emily was very unhappy so we did our registration and then headed back to our room to make lunch. Andy came to join us and he and Cameron talked and played while we had lunch.
After lunch we went off to the beach for a pot luck (we got some cut fruit from the local supermarket since we are rather limited with our cooking abilities).
Cameron went into the water rather quickly. He was pretty confident in the water and had a great time. He even got a turn on a boogie board.
Emily was really rather unhappy while we were at the beach - she still seems a bit sick.
Cameron would have stayed at the beach for many more hours but by about 5pm Emily was really ready to go so I tried to round up Cameron. He was not really keen to go so he went right out into the water while I tried to get him to come back in. Eventually he came back in cause he got knocked over by a wave and needed a dry t-shirt to wipe his eyes on.
After we got back from the beach Geoffrey and Cameron went off to the pool and Emily and I went back to the room. I took a shower and cleaned the sand off Emily then she climbed into bed and fell asleep at about 5:40pm. Cameron and Geoffrey spent hours at the pool playing with other children while Emily slept.
We created some welcome notes for our fairy God Children and Cameron had a wonderful time doing the deliveries. He was also very excited to get his first gift from his Fairy God Parent.

11 Sep 2009
This morning I went off to Jeff Sabo's talk titled "The Pursuit of a Passionate Life". It was an excellent talk, informative and entertaining.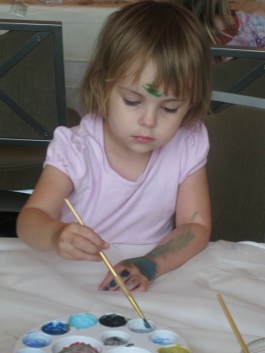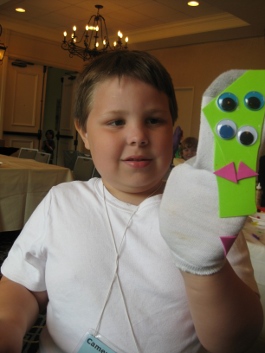 Geoffrey took Cameron and Emily to the Body Art and the ATC (Artists Trading Card) funshop. Cameron and Emily made some ATCs and Emily really got into the Body Art.
After the talk I went to finished I met up with Geoffrey and the kids. We all went off to look around at what was going on, and we found the toddler rooom - just a room with toys in it. Emily really liked it a lot.
We went to the Monster Sockery funshop with Cameron and Emily and they made their own sock puppets (which Cameron really loves to play with).
After finishing the sock puppets it was lunch time, so we had lunch in the hotel restaurant. They had a buffet (including drinks) for $8 per person. Cameron ate some meat and LOTS of toast. He was rather fascinated by the toasting machine in the restaurant.
While we were at lunch a little girl that Cameron had spent some time playing with (Poppy) came with her family and Cameron joined them for lunch. He had a ball talking with them.
After lunch there was the international candy tasting funshop. There was heaps of candy from all over the world and the room was just packed with attendees tasting all the treats. That seemed to be the most popular funshop I went to (based on the number of people).
The kids were also really keen to do the conference t-shirt embellishment funshop so we collected their conference t-shirts and started embellishing them. They had lots of fun and the shirts are much more colourful than they started.
After all the cool funshops Cameron wanted to go to the pool so I went with him, which Geoffrey did some shopping. The pool was nice to start with but eventually it got really freezing. When Geoffrey got back with food we went up to our room to eat.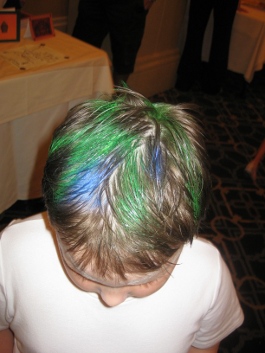 After dinner Geoffrey and Cameron went down to the Amy Steinberg concert and family fair. Cameron got a few things from the untrepreneurs, and got his hair coloured. Geoffrey dropped him back to the room so he could go off and do his hypnosis stuff at the fair.
Emily was fast asleep and Cameron and I had a delivery to do to our Fairy God Child so we left Em sleeping and headed up one floor. As we stepped off the elevator the fire alarm went off and the fire doors just near the elevator closed - Cameron jumped through them quickly (I later found out he thought that once they were closed that you couldn't open them, so he was a bit freaked out). We rushed down the fire stairs and collected Emily from our room (she was still sound asleep :-), and then went outside with the everyone else.
The fire alarm was short lived (someone had just pulled the fire alarm handle we presumed) and we were allowed back in the building very quickly. When we got back to our room Emily went right back to sleep, but Cameron was hyped.
Cameron had lots of questions about fire and alarms (a special thanks to the person who "strewed" that one in our path :-). Cameron now knows what the elements of fire are, that the alarm can go off via the smoke detector, or manually, that that triggers the siren and the flashing lights, that you must walk down the fire stairs, no pushing, remain calm. He also knows what makes the sprinklers go off in the room, about the purpose of fire/smoke doors and that it is not funny to manually activate the alarm. We made a "little book of fire" which he was really excited to have.

12 Sep 2009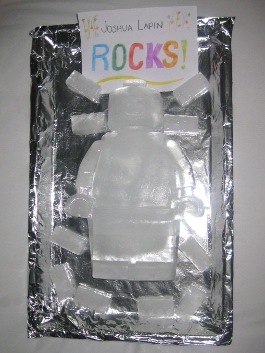 Today Emily slept in really late. Cameron and Geoffrey went out in the morning and Cameron showed some people his little book of fire, and explained some stuff to them. Cameron also painted a pet rock at the rock painting funshop.
After Emily got up we went down to meet Cameron and Geoffrey down by the pool. Cameron played with random people in the pool and had a good time.
Geoffrey went to the SSUDs meeting (which I assume was good - can't ask though; it's a secret :-)
I got Cameron out of the pool just before 3pm so that we could go and get ready for the Lego Lunatics funshop. Cameron and Andy helped me create a gift for our Fairy God Child (Joshua) - an ice sculpture of the Lego man with ice Lego bricks around it.
We delivered the ice sculpture and made sure that Joshua got to see it before it melted, then I headed off to the "Transformations" talk by Sandra while Geoffrey played with Cameron and Emily.
In the evening it was the talent show. After seeing a few people perform Cameron and Emily both wanted to have a turn, so they signed up. They didn't have to wait very long to get on. Cameron told three knock, knock jokes (well repeated ones another child had told) and Emily was going to do some signing and dancing but got a bit shy and just said a few words into the microphone.
We had some chips (french fries that is) and then headed back to our room where Cameron discovered the carton channel. Andy and Alli came to visit us for a while. They watched cartoons, played the DS and ate chocolate. After a bit Geoffrey took Emily, Alli, and Andy downstairs and Emily discovered that Kristin had a great collection of paints. Emily did a bunch of lovely bright paintings.
Cameron kept enjoying cartoons until 4am.

13 Sep 2009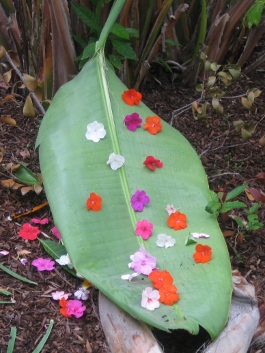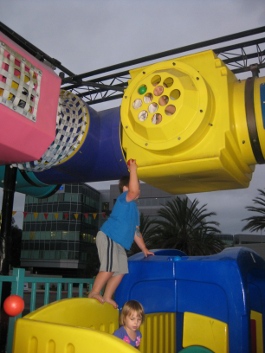 After Cameron's late night we all slept in fairly late. Geoffrey was up first and out and about visiting. When Cameron woke up he was keen to keep watching the cartoon channel. Geoffrey got some lunch from the restaurant and brought it back to the room so Cameron could keep watching his show.
At about 2pm I wanted to go to Pam's talk and it seemed like Cameron's show was almost over so I waited for him then dropped him off to Geoffrey before going to Pam's talk.
Geoffrey had organised for us to go out with the Lake family for dinner - we all had quite a bit of interaction with the whole family during the conference, they were lovely. While we were all trying to get ready Alli and Emily made a very beautiful leaf by decorating it with flowers. Alli really seems to love small children and Emily was very fascinated with Alli as well.
Yesterday Emily had spotted a play area while driving with Geoffrey and we were going to go there (a small cafe apparently). When we arrived there it was a Shell petrol station with a "cafe" attached to it - not too appealing for tea, so the kids played for a while before we headed off to Red Robin to get food.
It was rather an "active" dinner experience, with the Cameron and Emily running back and forth to the games room, and not really eating much. At the conclusion of dinner each of the kids got a helium balloon which they liked a lot.
On the way home Emily asked for ice cream, so we stopped off at the supermarket and got some to take back to our hotel room.
After ice cream Emily went to sleep and Geoffrey went in search of Sandra to sign her book, and to talk to people downstairs.
Cameron stayed with me. While I was taking a shower Cameron was hard at work on a project. He was trying to make me stuck in the bathroom. When I finished my shower I tried to open the door and it didn't budge. Cameron also told me the door was stuck and we both pulled together and got it open with A LOT of effort! Once I had the door open I saw why it was so difficult to open - he had used a heap of sticky tape to tape the door shut.
While Geoffrey was downstairs he did some hypnosis stuff with a few people.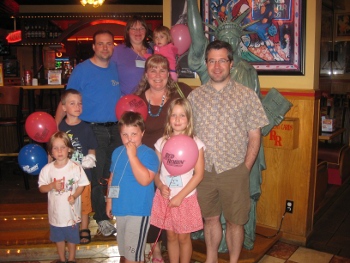 14 Sep 2009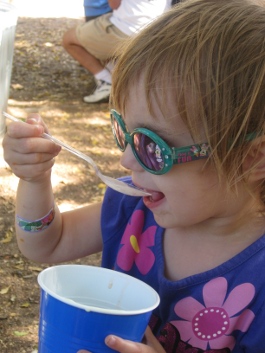 This afternoon we joined other unschooling families for a farewell picnic in the park.
James was making his liquid nitrogen ice cream, which is cool to watch. I tried a couple of the flavours, my favourite was the chocolate mint chip. I tried the Jalapeno ice cream but was not impressed (although I didn't really expect to be given I don't like "peppers"). Geoffrey, Cameron and Emily all tried it and thought it was okay.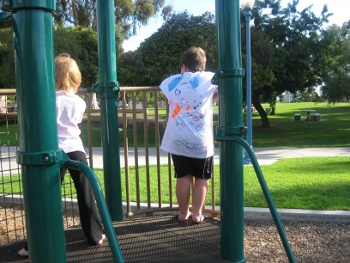 Geoffrey thought it was so cool that he did some reading about where to get liquid nitrogen in Adelaide so we can do it some time for fun.
Cameron played happily for a very long time with Melissa. Cameron told me that Melissa taught him lots about vampires and karate. He showed me some of his moves in the park (he had lots of them).
Late in the day Geoffrey did some hypnosis stuff with some other unschoolers in the park.
At about 7pm (sunset) we left the park and decided to get tea. I wanted steak, so we looked in the GPS for steak somewhere on our way home and came up with TGI Friday's. The kids sat down long enough to order and then they were off and running around. The steak I had was very nice.
After we got home from tea Geoffrey organised for us to stay another night at the hotel and did the washing while I tried (unsuccessfully) to put the kids to bed.

15 Sep 2009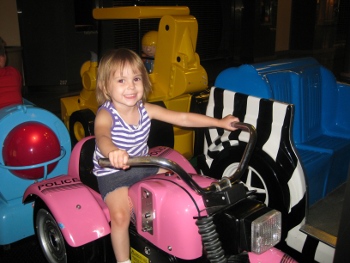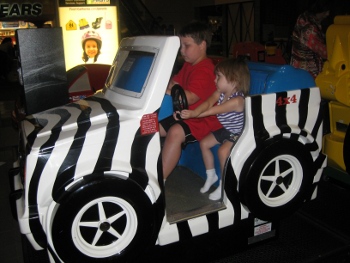 Today we had planned to go to Seaworld but by the time we got all sorted out it was a bit late to go, so we went shopping instead.
I picked a shopping centre that I thought had Sears, JC Penny, and Lane Bryant, but turned out not to have Lane Bryant, which was a bit of a bother.
While I was shopping Cameron and Emily found a (trackless) train that drove around the mall. They had quite a number of rides on it.
The range of clothes in Sears and JC Penny was rather limited; they seemed to be smaller stores. I did get some earrings, a bracelet and a very nice "tunic".
In the evening Geoffrey was meeting Lisa (a hypnotist in the San Diego area). I took Cameron and Emily to do more rides in the shopping centre and to look in a pet store while he did that.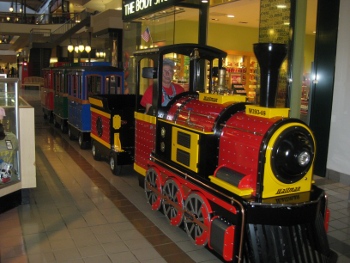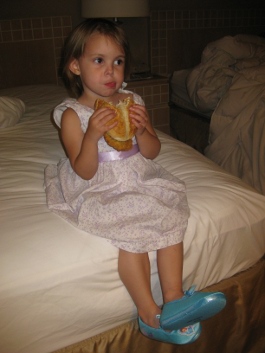 Once Geoffrey was done talking with Lisa we went in search of shoes. I couldn't find any that fitted me (with my big size 11 feet it was hard), but Cameron spotted some Lightning McQueen slippers and Emily got some princess slippers.
Once we had finished shopping we headed back to the hotel. We went to Carls Jr to get takeaway. We had an issue with our credit cards not working because of the chip in them which was a little bothersome, and the first time that had happened to us. Geoffrey tried his work VISA but that didn't work either.
After the kids had gone to bed we tried booking a dine-with-Shamu lunch, but discovered that we need to give 2 days notice so we just skipped that.

16 Sep 2009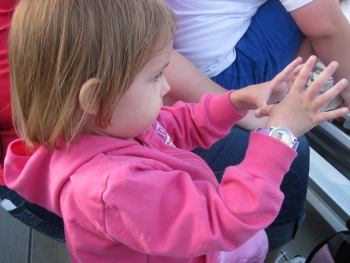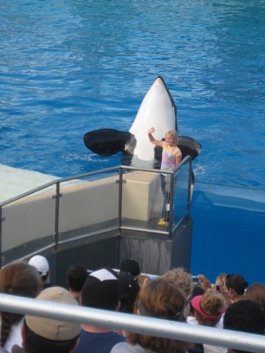 This morning we decided to go shopping before going to Seaworld so we got up a bit earlier. We went to another Westfield mall and this one had a Lane Bryant in it. I went there first and got a few things. The sales assistants were very lovely, friendly and helpful.
I also went for a look around in Target. I found a nice looking watch that cost about $20, and I got Emily a Tinkerbell one that cost $6 - she really liked it.
After grabbing some lunch we headed off to Seaworld - well we had to stop by a nearby hotel to print out our Seaworld tickets cause we left the originals back at our hotel!
Cameron and Emily wanted to play in the Sesame Street Bay of Play, which we did until it was time for the Sea Lion Show.
The Sea Lion show was rather amusing with a number of take-offs of things including, So You Think You Can Dance, The View, and Master Chef.
On the way out of the Sea Lion show Cameron spotted the Shark Encounter area. Emily didn't want to see that so I took her shopping while Cameron and Geoffrey looked at the sharks.
We got a Barbie Seaworld trainer for Emily, which came with a seal, dolphin and Shamu (Killer Whale) for Barbie to train. We also found some lollies (jube type) that came in the shape of sharks, clown fish, octopus, and a random fish, Emily really liked them.
We then headed over to the Shamu show. This time we sat well away from the soak zone. The show was slightly different, and it was still really great. Just amazing what the whales can do. During the show they have this call that you do for Shamu and Emily really got into it (that is what she is doing in the picture near these words).
Once the Shamu show was over Cameron and Emily wanted to head back to the Bay of Play to do some rides, so we did that.
We stayed at the Bay of Play doing rides until the park closed, then headed back to the car so that Geoffrey could drop us at home before he headed off to meet up with Kevin (another local area hypnotist).

17 Sep 2009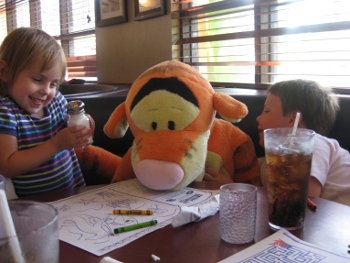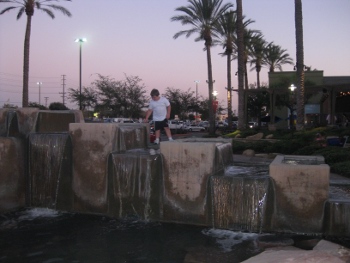 So today we drove from San Diego to Anaheim for the last part of our holiday - Disneyland! The drive went by really quickly with Cameron and Emily being very happy for the most part.
Once we arrived in Anaheim we checked into the hotel and got our stuff into the room, then went for lunch to Millie's. Cameron and Emily had a great time playing with the large stuffed animals and we all really enjoyed the food.
After lunch I did some shopping at JCPenny (pants), Sears (Jewelery), and Ross (handbag), and then I went to Lane Bryant (which was just luck cause we weren't looking for a Lane Bryant store - we just went to the nearest shopping centre with a Sears).
The Lane Bryant store was GREAT! They had a bunch of clearance stuff where everything was $6.99. I found 2 pants, 1 skirt (that converts to a dress), a jacket to match the dress, and 2 tops, and they were just $6.99 each! I got a few other things as well that were really nice.
After my great find at Lane Bryant I went off to Walmart to get a duffel bag (which was a must get for the trip home as we have run out of suitcase space). I also got another nice looking watch for me while I was there, and did a bit of food shooping.
Later I met up with Geoffrey to organise some sand shoes for him. The shoes are just so cheap in the US. We got 3 pairs of New Balance sneakers and 1 pair of Reebok sneakers for $130 (total).
Later that night I stayed at the hotel to unpack while Geoffrey took Cameron and Emily to IHOP (Cameron was rather insistent that he needed pancakes for dinner), and they went wandering.

18 Sep 2009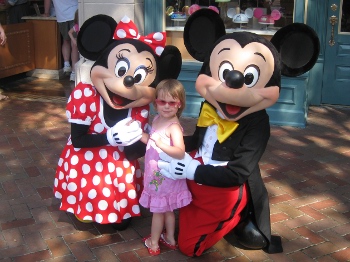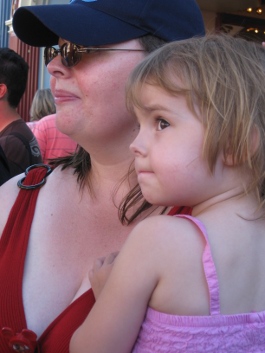 Today it was off to Disneyland for day 1 of the 5 day hopper pass. Within minutes of arriving we had lost Cameron, but we found him after a little while.
Emily spotted Minnie and Mickey Mouse and wanted to get a photo with them so we jumped in the line and she got her photo, which she was rather pleased about.
While Geoffrey and the kids were watching a band I ducked off to look in the shops for something that we could put on Emily with our phone number on it.
Shortly after, we discovered that there was going to be a parade (well a street dance party) so we grabbed a spot on the side of main street to watch it. We were right next to a little girl, named Mackenzie, who had had a princess makeover. She was very friendly and talked with Geoffrey and Emily until the parade started.
The dance party was really good to watch, Emily was not sure about it. She sat in her pram with her hands over her face for a bit of it, but she liked it more when I held her.
After the parade we went to the Plaza Inn for lunch. Geoffrey and I shared a steak which was very tasty, and Cameron and Emily shared a plain pasta meal with fruit and vegetables.
We decided to head to Fantasyland first off cause Emily can ride all of the rides there and that meant that we could all be together. The first ride that we spotted was the Mad Hatter's Tea Party (commonly known as "the tea cups"). Cameron and Emily both enjoyed the ride. Then we headed off to the "It's a Small World" ride. Cameron was eating an ice cream so wasn't able to ride. Me and Cameron waited until he had finished and then I asked if he wanted to go on the Small World ride but he decided that he didn't want to ride it cause he had ridden that one last time. Once Geoffrey and Emily got off Emily wanted to show me the ride so I went on with her.
Cameron and Geoffrey went off to Mickey's Toon Town, and Emily and I joined them later.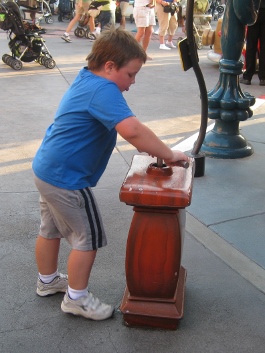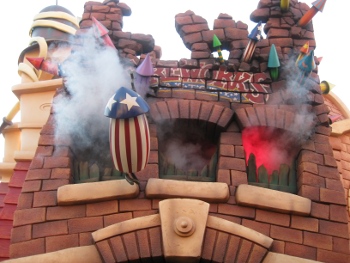 Cameron and Geoffrey got some Fast Passes for the Roger Rabbit ride and then Cameron played at the noisy house for quite a while. There was a place where you could detonate an explosion in the house that Cameron seemed to really like. Emily not so much cause it was too loud for her. Again I took Emily shopping to look for anything cool. Emily selected the most insanely large lolly pop - it was as big as her head! (which she didn't eat much of in the end).
Once we had finished shopping we went to the Roger Rabbit ride, again Cameron didn't want to ride it so I took Emily while Geoffrey waited with Cameron. Once Emily and I had finished Geoffrey took his turn while I took the kids to have a snack at Pluto's Dog house.
Cameron and Emily then found Goofy's house and Donald's Boat to play on. Emily didn't much like the boat cause it had a noisy bell on it and she was not keen on Mickey and Minnie's house either cause they had fires in them which seemed to distress her. Cameron on the other hand really liked them.
After playing for a long while in the Toon Town area we headed back to Fantasyland and had a ride on the Dumbo ride. After we got off the Dumbo ride we discovered that most things in Fantasyland were being shut down for the fireworks. So we headed over to get a spot for watching the fireworks.
The fireworks were packed, it was astonishing how many people were there to see them. They fireworks were great, and they had an appearance from Tinkerbell and Dumbo (which Emily really liked). After the fireworks were finished it took ages for us to make our way to Tomorrowland which was only about 50m away. There was just such a traffic jam (pedestrian jam?).
We had a ride on the Astro Orbitors and then decided to go home cause everything was just so packed.
We went to Denny's for dinner, which Cameron was pleased about (he likes Denny's food cause it is simple).
After dinner Cameron decided to push Emily back to the hotel in the pram. As Cameron does he was going really fast and unfortuantely he hit a bump when going up a kerb and there was a spectacular crash - Emily flipped out of the pram forwards, the pram tipped over on top of her and then Cameron fell on top of the pram (so Emily was stuck under the pram and Cameron. Unbelievably there was not a scratch on Emily (although she was very scared and upset), Cameron was pretty upset as well. A security guy came over to try to help out with calming Cameron down which was very nice of him.
Cameron got up after a little while, even though he was still a bit upset. He told me that he would feel better if we got something from a shop that we were passing - bit of retail therapy... no problem, works for other people. He got an orange and a lemon to help him feel better... huh? Anyway we took them back to our hotel and Cameron and Geoffrey made lemonade before we went to bed.

19 Sep 2009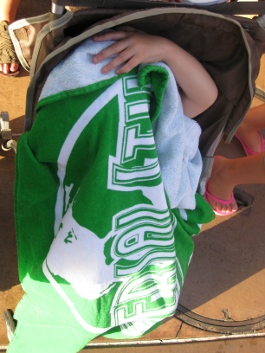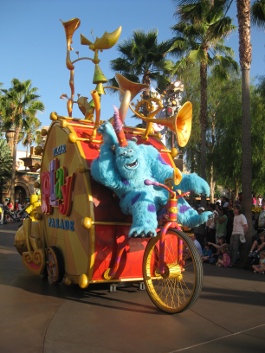 Today we went to California Adventureland. We arrived just in time for the play parade, and we got a great spot just inside the main gate. One of the other guests told us that we would get wet from watching the parade, so we got ready with the towel for Emily (which she hid under for some of the parade). Cameron on the other hand stood behind people and moved to the back of the crowd when he was too concerned about the water. Cameron was very excited to see "The Incredibles", and some of the Monster's Inc characters.
After the parade had finished we got some icecream and frozen lemonade before going to the Aladdin stage show.
The Aladdin show was excellent, as you would expect the Genie was very funny and I loved the carpet flying above the audience it looked speccy. Even Cameron (who originally didn't want to go) thought it was great.
After Aladdin Cameron was eager to go on the Mike and Sulley ride, so we went in that direction. On the way we stopped off at an amazingly realistic scene where it looked like a city street but was just a painting (that is in the picture below). Cameron and Emily had a look to see if it was real.
When we arrived at the Mike and Sulley ride Cameron decided that he didn't want to go on it. So again we did rider swap.
After Geoffrey and I had both had a go on the Mike and Sulley ride I wanted to go to the Muppets in 3-D. Cameron didn't want to go so I took Emily. While we were waiting Emily decided that she wanted Dad, so I gave up on seeing the muppets and went back to meet Cameron and Geoffrey.
Based on how everyone was feeling we decided that it was time to go home. Cameron took off with Geoffrey and Emily in tow, and they were back at the hotel before I had even left the park (shopping and toilet stop required by me).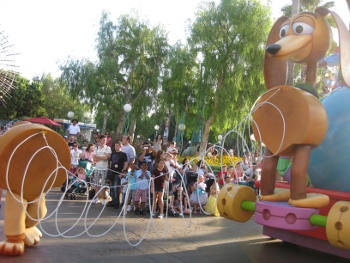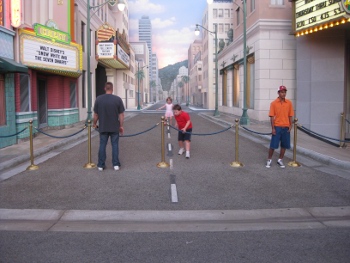 I walked back to the hotel and on the way I saw a couple that were begging - "spare a few dollars so the wife and I can get something to eat?". Now I do have a great memory so I am very confident when I say that that same couple were begging at Disneyland 3 years ago (the last time that we were there). It seems that their situation hasn't improved much.
For tea we went to Mimi's. Cameron got his usual hamburgers (no cheese, no sauce), Emily got the chicken tenders with fries and Geoffrey and I shared a chicken cordon bleu - which was very nice.
Geoffrey and I had noticed that Cameron had shown very little interest is going on rides (in fact he seemed a little scared), which is really not like him. I asked Cameron about it and he told me he only wanted to go on some rides. So we went through the entire list of attractions at Disneyland and California Adventureland and marked the ones he wanted to go on and the ones he didn't want to go on. We looked up rides he had questions about and then marked if he was going on those or not. In the end we had a fairly big list of the rides he wanted to go on so I was hopeful that tomorrow would go better in terms of rides.

20 Sep 2009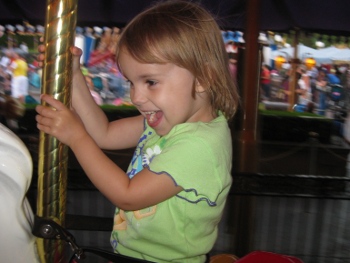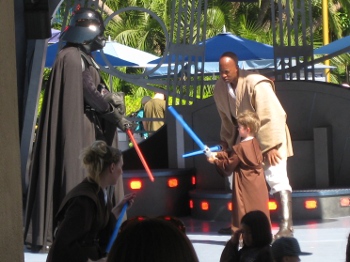 Today was Cameron's choice for where to visit - he chose Disneyland. First off we went to Tomorrowland and got our FastPass for Astro Blasters (this was one of the rides Cameron wanted to ride).
After getting our tickets for Astro Blasters we went to organise some lunch. At the place we chose to eat there was the Jedi training academy performance going on. This is where they take a bunch of kids from the audience, "train" them and then they face off against a bad guy (Darth Vader or some evil looking guy with a red face and horns). It was very fun to watch. Cameron really enjoyed it.
While everyone was watching that, I organised lunch for us all. Cameron really enjoyed his turkey wrap (he had a second). Geoffrey and I shared a club sandwich while Emily ate yoghurt and apple slices.
After lunch was finished it was time for us to use our FastPass, which also meant we could get another, so I went and got FastPasses for Autopia before we went to Astro Blasters.
When we got to Astro Blasters Cameron again decided that he didn't want to ride so we did rider swap. it was a very fun ride where you get to ride and shoot targets. You get a score at the end, I got level 3, and Geoffrey got level 4 (4 is higher than 3).
After Geoffrey and I had done Astro Blasters we all headed off to Autopia. Cameron was very keen to do that one and the line was very short so we didn't even need our fast passes. For the first ride I went with Cameron; it was pretty cool. I did the gas and Cameron did the steering. Cameron had a blast. When we got back Cameron wanted to go again with Geoffrey, so we swapped partners and went around again.
After the second ride Geoffrey had to go off and collect his credit card (which he accidentally left at the restaurant the night before), and he also needed to do some work. Cameron and I rode the Autopia cars another two times before we had had enough.
The next thing on our list of things to do was ride the Disneyland Express train. Cameron was very happy to get on that one. However when the conductor announced going through a tunnel with Dinosaurs in it he got a bit scared. I told him I would look after him and he would be okay. We went through the tunnel and it was not at all scary. I think that this could have been a good thing because he thought it would be scary but it wasn't - much like a number of other rides he didn't want to go on.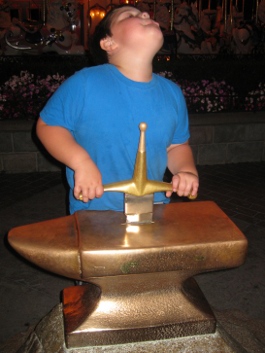 We took the train right around to Toon Town and Cameron spent a fair bit of time playing in the house that exploded. After Cameron had finished with that house we went to Fantasyland where he decided that riding the "It's a Small World" ride would be fun.
Cameron and I rode the Small World ride twice before Geoffrey called to ask where we were (they had just finished a couple of rides on the carousel after returning to the park). We told them that we were at the Small World ride and they came down to join us for another two rides on it.
When we had finished our fourth ride we went to Mr Toad's Wild Ride - another that Cameron had marked on his list. This one he got on. And he loved it! We went on a few others in the same area before it was time for the rides to close in preparation for the fireworks. We had planned to go and watch Fantasmic - which is a story about Mickey Mouse and the power of his mind, so we went there.
Fantasmic was rather interesting and a little bit scary for Emily. There was projection onto screens of water, fire, fireworks, boats, fighting, witches etc. I thought it was pretty amazing.
We were going to skip the fireworks tonight and just keep doing stuff but it seems that "everything" (meaning what we wanted to do at least) stops for the fireworks. Such a pity really cause it would be a great time to get a bunch of rides in without the queues. Anyway we watched the fireworks from a different angle and then headed off with the masses after the show had finished. Today the getting around after the show was not so bad. It took very little time to get to Fantasyland.
When we arrived in Fantasyland a number of the rides were still closed off - including the one Cameron wanted to ride (Pinocchio's Daring Journey). So we waited in the "line" for that ride, which actually turned out not to be a line for the ride cause when the opened the area up they let other people go through first and they got to ride before us.
Next we went in the line for Snow White's Scary Adventure and we got all the way to the front of the line before Cameron decided that he didn't want to ride. The attendant asked why and he said he was afraid of the dark. She had that sorted in moments (by giving him her torch) and we were off. I thought that it was wonderful of the lady to give him the torch to encourage him to get on. Cameron actually liked the ride and
Next on the list of rides to visit was Peter Pan's flight. The line for that one was rather long. Emily entertained herself by waving at people - well females anyway. The ride was really nice and I think that was my favourite ride in the Fantasyland area.
By the time we had finished Peter Pan the rides were all closed. Cameron and Emily stretched out home time a bit by trying to pull the sword out of the rock, both had no luck so we headed home.
By this time it was about 11:30pm and we hadn't eaten dinner, so we stopped off at Millie's to grab something. They had lovely potato skins with cheese and bacon, plus sour cream or ranch dressing for dipping. Yummy.

21 Sep 2009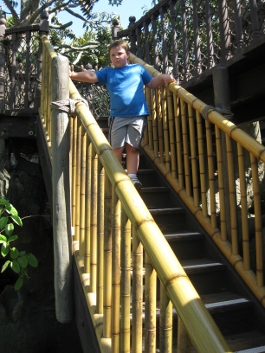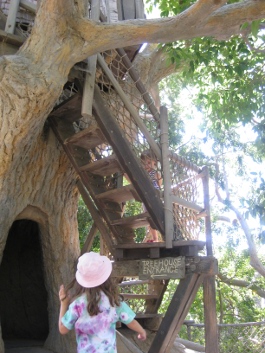 Today we did Disneyland again. We started off with the Indiana Jones ride. Cameron was keen to go on but when we got to the cars he changed his mind (which was probably a good thing cause I think it would have scared him). I had to take him out of the queue and then go back in line again to get my turn.
After I had my turn on Indiana Jones, Geoffrey went on while Cameron and Emily played in Tarzan's treehouse. The tree house was very high and I wasn't sure if I was going to make it to the top. Cameron really liked it and wanted to go around a second time but Emily didn't want to do it. I told Cameron he could go himself or wait for Dad to get back but he was not really happy with those options.
When Geoffrey got back he took Cameron up the tree house while I took Emily on the jungle cruise. The cruise was good. There were lots of things to see and some rather corny jokes in the commentary by the boat driver which were so bad they were funny.
We got some lunch together at one of the park restaurants, and then looked around a bit more. Cameron saw an island that he wanted to visit - it was Tom Sawyer's Island. We caught a raft over to the island to see what was there.
It wasn't long before Cameron had found a friend, Noah, to play with. They played in the tree house and in the caves for a while together. While Cameron was playing in the caves he disappeared. Noah and his aunt helped me look in the caves but he wasn't there so I went in search of him.
I found him, after about 10 minutes, being supervised by a Disneyland employee. Cameron proudly told me that he had found the Disneyland employee because he was lost and that he had told him that he had to "Find my Mummy", "She is Australian, and her name is Lindy". I figure that employees are probably charged with holding a child "still", before taking them to the "lost children" place, so that parents have half a chance of finding their children where they left them.
By now Cameron was ready to go to Fantasyland so that he could do more of the same rides he had done last night. So Geoffrey and Cameron went off to do rides while I took Emily to get her princess makeover. You can read all about her makeover on this page.
Emily got lots of comments on how cute she was in her princess outfit - actually she did get lots of those sort of comments even without the outfit, but more with.
The park closed at 6pm, but they were doing a soft close, which mean that some rides stayed open until 7pm, and those were the rides we were keen to go on. During the hour the park was "closed" we rode: Peter Pan's Flight once, Mr Toad's Wild Ride four times, Dumbo twice, The Mad Hatter's Tea Party once, and Alice in Wonderland twice.

22 Sep 2009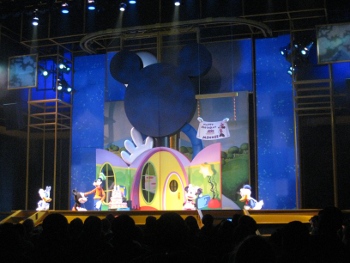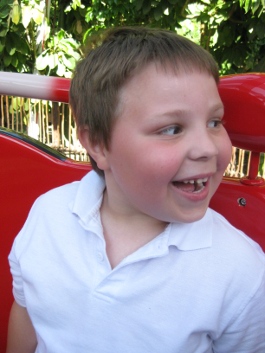 Today was my choice for where we went and I picked California Adventureland.
Emily wanted a princess hair-do again so I did that for her and got her into her Belle dress. Then we set off. Geoffrey went to the 7-Eleven to get a phone card and I took Cameron to get some lunch from Millie's.
The first place that we visited was Playhouse Disney where there was a stage show of Mickey Mouse Club House. Mickey had a few guests with him including Handy Manny (and all the tools), Winnie the Pooh (and friends) and the Little Einsteins. There was also all the usual crew from Mickey Mouse Club House. The story was a little weak but the kids got to dance around and clap so they had a great time.
After the Mickey Mouse show we went to A Bug's Land to see what rides they had there. We went on Flick Flyers (twice with no waiting cause the line was about non-existent). Then we went on the Lady Bug Boogie - which is similar to the tea cups but you can't spin the lady bug yourself. Cameron thought that ride was very fun and had a big smile the whole time.
Next Cameron wanted to go on the dodgem cars. The height requirement was minimum 36" so I figured Emily couldn't ride and I took her to the Chew Chew train while Geoffrey and Cameron went on the cars. Cameron seemed to enjoy the cars cause when Emily and I got back he was still riding them. Emily asked to go on so I took her over to the height measurement thing and she was tall enough! So I took her for a go, then I swapped her with Cameron so that she could have a turn with Geoffrey (she wanted to go with "Daddy").
Next thing that we spotted was Mickey's Fun Wheel (we just call them Ferris Wheels in Australia :-). We all went on that together in a non-swinging Gondola. Emily wanted to go on a swinging one. Geoffrey was happy to take her but Cameron and I opted out.
While Geoffrey and Emily were on the Fun Wheel Cameron and I found a side show kind of place. Cameron played on a number of the games and won a few prizes. Emily joined in the fun when she had finished and she won some stuff as well. All together they won: 2 stuffed crabs, 2 stuffed ducks, 2 mini pillows, 1 stuffed mouse, 2 medium fish, and 1 Mickey Mouse stuffed toy. Not a bad haul for a side show place after only spending $40 :-).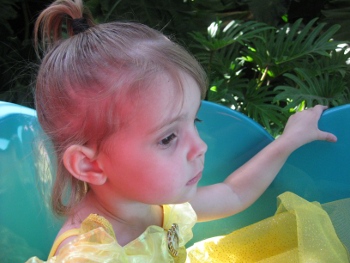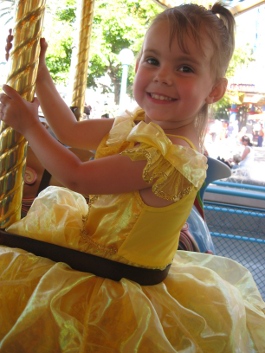 Next on our list was riding on the Toy Story Midway Mania ride. Geoffrey took Emily on that while I took Cameron to do some other stuff. We got a drink and then wandered around until we found the SS Rustworthy. That was basically a boat the kids could play on. Cameron enjoyed playing on that for a bit until he was ready to go on the Jumpin' Jellyfish - that was a ride he couldn't ride the last time that we were in the US so he was pleased to ride it this time. Finally we went on the Golden Zephyr twice before meeting up with Geoffrey so that I could have a turn on the Toy Story ride.
While waiting for us Emily rode on King Triton's Carousel a few times. She really seemed to like the carousels. I took Emily with me on the Toy Story ride. It was really cool. You get driven around in a "car" to different places that you can do target shooting with your gun - lots of fun.
After I had finished on the Toy Story ride the park was closed so we headed out. On the way out I stopped off at a shop that sells Mr Potato head stuff. You get a box to fill up with all sorts of things. We got Darth Vader stuff, Buzz Light Year, Mickey ears, Minnie ears, a Minnie bow and heaps more. Me and Cameron spent lots of time selecting things and packing them in as tight as possible. We even had a helpful shop assistant tell us we had a little space left in our box, so we unpacked and repacked so we could get a bit more in. We had fun doing that.
Since California Adventureland was closed we headed over to Disneyland which was open for another 2 hours. Geoffrey took Cameron and Emily off to do some rides while I did some shopping for gifts for the nieces and nephews. I found some good stuff. I got some Mickey ears and had to wait in line for an hour to get names embroidered on them.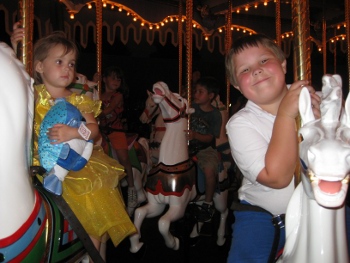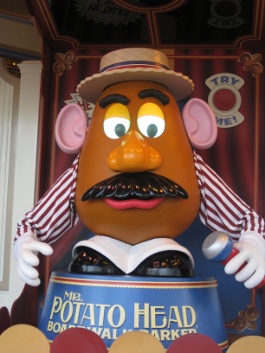 Cameron, Emily and Geoffrey did some rides in Fantasyland. They rode Dumbo, the Carousel, and Mr Toad's Wild Ride. Emily didn't want to keep riding Mr Toad's ride but Cameron was too young to ride on his own (although he did sneak in once on his own). You must be 7 or older to ride alone, so Cameron was asking other random people if they would ride with him, with some success.
After we finished at Disneyland Geoffrey went off to visit Robert - to see his Segway. Me and the kids got room service. It was actually interesting to get room service cause the room service button was programmed to call some random persons house - not the restaurant! He was very nice about it, he said it only happens every few months and he hasn't been able to get the hotel to change the programmed number despite calling them a few times. I called down to reception to get them to put me through to the restaurant and suggested that they fix the phone - I don't hold out hope for that, the person I spoke to seemed uninterested.
Cameron had found Madagascar 2 on the TV to keep him busy until food arrived. He was transfixed by the movie. Emily and I got to see one final fireworks show (even though there was none scheduled for the day). Cameron was too busy watching Madagascar to come out and see it. It was rather a bit different to the one we had seen on the weekend so I guess they are working on a new show or it was a special one.
After dinner I did the washing and tried to pack. Packing was hard cause we had so much stuff that was oddly shaped or needed padding to keep it safe for the journey. We also didn't have enough space to fit everything in. After giving up on trying to pack it was pretty late so we organised a late check out (staying to 6pm - for a fee).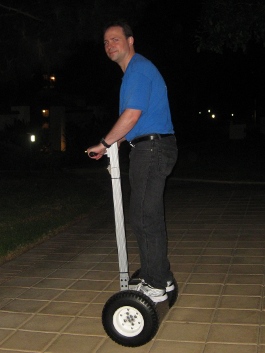 23 Sep 2009
Today was our last day of holidays. We started off by sleeping late (til 12pm), nice. Then I did a bit more packing before we went off to Downtown Disney to get some more gifts.
For myself I found a pair of earrings with the Mickey Mouse head on them that I really like, and we got a Monopoly board game to send to the Lerdorfs as a thank you gift. Emily purchased some "glass" slippers which are very cute, and Cameron got an Astro Blaster gun that makes a noise and flashes. We also purchased another duffel bag to take all our stuff home in.
We finished packing and then checked out. On the way down we stopped off on the third floor where there is a Pizza Hut. We got pizza for tea and the kids played in the games room for a while. We left at about 7:20pm to go out to catch the bus to the airport.
The bus driver was rather incompetent. I told him we wanted to go to "Qantas" which he told me was terminal 6. Okay I have no idea so I believed him. When we got to the airport he dropped us at terminal 6 - which was not Qantas, apparently he thought I said "Continental" - huh? His English must have been shocking to get that mixed up, they aren't even the same number of syllables! So we ended up walking back to the end of terminal 3 where we should have been dropped off. It was rather a long walk with all of our bags, a stroller, and 2 uncooperative children.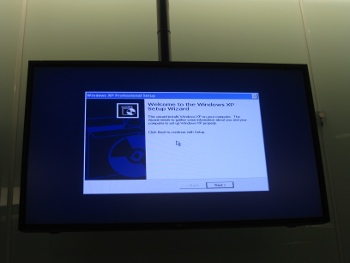 We checked in and dropped off our bags at the screening point and then headed off to the Qantas Club. On the way we spotted a rather useless monitor which I presume should have been showing arrival and departure info, but it was showing the Windows XP Setup Wizard.
When we walked in to the Qantas Club Cameron announces at the top of his voice "Let's order some food!" which nearby people seemed to find rather amusing. The food was excellent; they had sausages in pastry, noodles, rice, chicken noodle soup (with real chicken and pasta type noodles - very tasty), chicken cacciatore, fried rice balls and biscuits. Cameron spent a good amount of time talking to the couple next to us about our holiday in general and Mr Toad's Wild Ride in particular. They were very nice and attentive.
When we finally got on the plane I was pleased that the crew were very friendly and helpful. I wasn't particularly impressed with economy class on the Airbus but Geoffrey liked it. I watched The Hangover (Geoffrey did as well). It was very funny, and I also watched Duplicity, which was also good.
I was thankful that the chef avoided the excessive use of mushrooms this time and I was able to eat something and enjoy it. One thing I liked about the Airbus was the get your own drinks and snacks ability during the night.
Emily slept for about 10 hours of the flight and Cameron for about 8 hours (with a little break for crying cause he was upset by something, probably being woken up). The kids and Geoffrey slept until we were about 2 hours out of Melbourne - which was when they started serving breakfast.

25 Sep 2009 (AUS Time)
When we got off the plane, customs officers were using sniffer dogs on the passengers as they walked through. Geoffrey told them that Cameron and Emily were rather afraid of dogs so could we skip that bit. They were very accommodating. They took us out of the line and got us to put our bags down then walk away from them. They then brought the dogs over to check them out. Once they were done they took the dogs away and we went off with our bags.
We got through immigration and customs quickly. Then we had to take our bags to the domestic check in. It felt like it took ages to get to domestic check in, the kids were wandering about getting distracted by everything in sight (guess being on a plane for 15 hours will do that!).
Finally we got rid of our bags and headed off to the Qantas Club. At the Qantas club we had lots of doughnuts (supplied by us) and toast. The plane that we were meant to take from Melbourne to Adelaide was running late so we had a bit longer than expected in the Qantas Club. Love that Qantas Club membership!
The plane flight from Melbourne to Adelaide was uneventful and quick. David and Michael picked us up from the airport. I think that two cars were definately needed - we had so much stuff!
We were all very glad to be home and celebrated by sharing some Krispy Kremes with David.